2017 Messing Award: Parr to Study Buddhist Art in China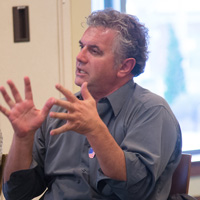 The 2017 recipient of the Wilma and Roswell Messing Jr. Faculty Award is Chris Parr, professor in the Department of Religious Studies in the College of Arts & Sciences.
Since 1977, the Wilma and Roswell Messing Jr. Faculty Award has been presented to a full-time faculty member for a summer activity that strengthens his or her curriculum and that improves the teaching/learning experience.
The award provides the resources for a Webster University faculty member to complete international research projects and infuse the results of their studies into their curricula and teaching. Faculty proposals are peer-reviewed by an appointed University committee.
Exploring Buddhist Art in Cultural Contexts
Parr, who teaches courses in East Asian religions, will spend two weeks in China in the summer of 2017. His trip will focus on China's renowned Silk Road, where he will explore Buddhist art of the Mogao caves near the oasis town of Dunhuang, and visit other oasis towns of Urumqi, Turfan and Kashgar, known for their historical importance in the northwest desert zone of the Xinjiang province. He also plans to visit Beijing, as well as some of China's ancient capitals.
Parr's trip will help further his research on Buddhism and its cultural contexts, and enrich his understanding of China and the many topics he teaches.