Messing Award: Hong will present in Japan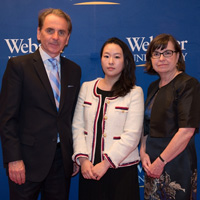 One of Webster University's traditions before the annual commencement is to recognize five faculty members with Webster's most prestigious faculty awards, the William T. Kemper Award for Excellence in Teaching and the Wilma and Roswell Messing, Jr. Faculty Award.
All five recipients were honored at the annual commencement dinner and on other occasions throughout the weekend. Read about the four Kemper Award recipients here.
Messing Faculty Award
Since 1977, the Wilma and Roswell Messing Jr. Faculty Award has been presented to a full-time faculty member for a summer activity that strengthens his or her curriculum and that improves the teaching/learning experience. The award provides the resources for a Webster University faculty member to complete international research projects and infuse the results of their studies into their curricula and teaching. Faculty proposals are peer-reviewed by an appointed University committee.
This year's recipient is Seoyeon (Celine) Hong, assistant professor in the Department of Communications and Journalism in the School of Communications.
Destination: Fukuoka, Japan
Hong, who teaches courses in media research and social media, will attend the 66th International Communication Association (ICA) conference held in Japan, June 9-13 of this year. ICA is the largest academic association for scholars interested in the study, teaching and application of all aspects of human and mediated communication, with more than 4,500 members in 80 countries.
Hong will present a paper titled "Game of Cues: The Interplay between Star Ratings, Number of Reviews, and Product Reviews in Online Shopping for Health Products."