Craig Miller Honored in Diverse Business Leader Awards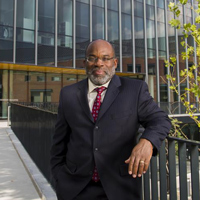 Craig Miller is one of the recipients of the 2017 St. Louis Business Journal Diverse Business Leaders Awards.
Miller, director of facilities planning and management at Webster University, oversees new construction and renovation projects for the University nationwide. The award profile cited his management of two major projects in particular, the completion of the East Academic Building in 2012 and Browning Hall, the interdisciplinary science building, in 2017.
Miller is recognized within his field and at Webster as integral to the experience of thousands of students, faculty and community leaders when on campuses. His work on major projects involves coordination with the city as well as many departments and constituents within the University.
He was recognized at the annual event Friday, Sept. 8, as well as in the Sept. 8-14 issue of the Business Journal. See the story online here [subscriber content] or on page 27 of the print edition.
"Craig has this great industry experiences and he's a person who others enjoy working with," said Webster University President Beth Stroble in the article. "It takes creativity, good listening skills and attention to detail to do his job. He just is good at building relationships."
The article notes that construction is in Miller's blood: His father was a carpenter and welder, and when Miller was about 12 he helped his father build an extension on their house so he and his sister could have separate bedrooms.
As Miller quips in the article, "My sister has to get some credit for my profession because she said, 'You have to get me out of this room, I'm tired of him.'"
Miller is active in the academic and industry communities, including serving as a board member and program committee chair for the International Facility Management Association (IFMA), 2017. He is also a youth baseball and basketball coach and has served as a volunteer career coach in his field.
Read the full profile of Miller online here [subscriber content] or on page 27 of the Sept. 8-14, 2017 print edition.