Faculty Mobility Opportunities, Apply by Oct. 15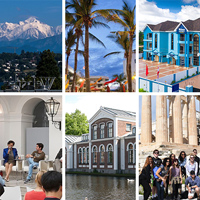 Applications for the Leif J. Sverdrup Global Teaching Fellowship and proposals for the short-term faculty-led study abroad program for Fall 2020 are now being accepted.
The deadline for both of these mobility opportunities is Oct. 15. Informational sessions will be held on WebEx for each.
Leif J. Sverdrup Global Teaching Fellowship

The Sverdrup Global Teaching Fellowship allows full-time and adjunct faculty the opportunity to teach for an 8-week term or semester at one of the following international campuses: Accra, Ghana; Athens, Greece; Bangkok, Thailand; Cha-am/Hua Hin, Thailand; Geneva, Switzerland; Leiden, the Netherlands; Tashkent, Uzbekistan; St. Louis, MO, USA; Vienna, Austria.
Information sessions for this program will be held via WebEx on:
Tuesday, Sept. 3, 1:30-2:30 p.m. CST
Thursday, Sept. 12, 9-10 a.m. CST

Monday, Sept. 23, 9-10 a.m. CST
To join in on the WebEx, RSVP here.
Short-Term Faculty Led Program - Call for Proposals
Faculty led short-term study programs enrich Webster's curriculum by taking learning to new dimensions outside the classroom. Faculty can propose to lead a group of students on an international immersion experience for academic credit. The learning experiences afforded by these programs helps support the University's mission of transforming students for global citizenship and individual excellence.
Generally, these immersion experiences are a component of a longer term or semester course. Various program models exist for these hybrid courses, including teaching the course online, so that students from across the Webster University worldwide campus network can participate and meet on-the-ground for the immersion experience.
Members of the Webster faculty are invited to plan and propose short-term study courses. The proposal form and other details can be found at here.
For faculty interested in this round of applications or applying in the future, information sessions on proposing and developing short-term programs will be held via WebEx on:
Thursday, September 5, 1:30 p.m. - 2:30 p.m. CST
Wednesday, September 11, 9:00 a.m. - 10:00 a.m. CST

Monday, September 23, 1:30 p.m. to 2:30 p.m. CST
To join in on the WebEx, RSVP here.
For more information
For more information on the Sverdrup Global Teaching Fellowship and Short-term Faculty Led opportunities, contact Hannah Verity, Director of Global Program Development at hannahverity72@webster.edu.