Monika Stoisser-Gohring, Chief Financial Officer at AT and S joins WVPU's Advisory Board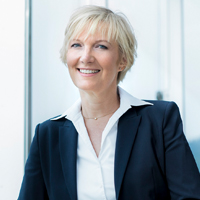 Vienna, Austria – Monika Stoisser-Gohring, Chief Financial Officer at AT&S, is joining WVPU's Advisory Board becoming the second female CFO and third senior female leader on the Board. "We are proud to have Ms. Stoisser-Gohring as part of our growingly dynamic team," said Dr. Walter Schön, Chairman of the Advisory Board and Chief Executive Officer, Schoen Aerospace Trading & Consulting, adding "Ms. Stoisser-Gohring brings with her extensive experience in the fields of finance and corporate leadership."
In addition to a degree in Business Administration from the University of Graz and experience as a tax consultant, Ms. Stoisser-Gohring worked for several international auditing and tax consultancy firms before joining AT&S as Head of Finance in 2011, later taking on the role of Director of Finance and Controlling. Prior to her appointment to the Management Board in July 2017, she held the position of Director of Human Resources for the company's worldwide operations.
The Advisory Board consists of 15 members holding prominent business, political, or cultural positions in Austria. Collectively, the group advises the University's senior leadership on matters pertaining to regional business, cultural, and educational communities, as well as leading trends in the skills students, need to succeed in the future.
"I am looking forward to contributing to the positive enhancements of Webster Vienna's visibility and reputation," added Ms. Stoisser-Gohring. She is the third woman to join the Webster Vienna Advisory Board, alongside Liane Hirner, CFO of Vienna Insurance Group, and Biljana Weber, Senior Director Business Applications.
***