Jaysea Morgan Named WBCA Division III Honorable Mention All-American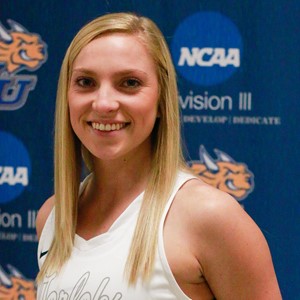 Webster University senior Jaysea Morgan picked up the most prestigious honor of her four-year playing career on March 19 as an NCAA Division III Honorable Mention All-American by the Women's Basketball Coaches Association.
Morgan earned her Honorable Mention All-American honors from the WBCA after a senior year campaign that had her named the St. Louis Intercollegiate Athletic Conference Defensive Player of the Year, along with earning First-Team All-SLIAC honors, she was also a two-time SLIAC Player of the Week and was named to the SLIAC All-Tournament Team.
"Of all the honors a student athlete can get this is one of the biggest honors they can receive," said head women's basketball coach, Jordan Olufson. "We are so happy for Jaysea knowing she has put so much time in to her game. Her contagious work ethic and drive has made this possible. We are thrilled for her to get this amazing recognition. She has earned this and elevated her teammates along the way and is a true All American on all level."
With her All-American selection, Morgan becomes just the third SLIAC player in league history to earn All-American honors from the WBCA and the second Gorlok to be selected as Gorlok Hall of Famer Halley Spann was named an Honorable Mention selection in 2001-02, while Westminster's Kendahl Adams was an Honorable Mention honoree in 2018-19.
Morgan closed her career sitting in the Top 10 in numerous career statistical categories besides scoring and assists as she holds the school's all-time mark for career free throw percentage, tied for second in career games played, sixth in career free throws made, eighth in career field goals made, ninth in career free throws attempted, ninth in career minutes played and 10th in field goals attempted.
The WBCA presents the Player of the Year award annually to the top player in five of the six WBCA membership divisions (NCAA Divisions II and III, NAIA, two-year college and high school). The Player of the Year and the 10-member Coaches' All-American team in each division are selected by a committee of WBCA member coaches in that division. The Wade Trophy is presented to the top player in NCAA Division I.