Nursing Students Present Posters for Capstone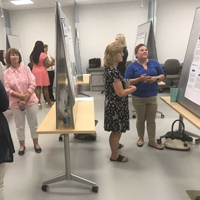 Fourteen graduate nursing students presented posters as part of their final capstone project on July 18. Students chose a topic and completed a literature review related to their focus of nurse educator or leader. The literature review was translated to a poster. Poster topics included: disaster preparedness, horizontal violence, and multi-disciplinary rounding.
The poster presentation session represents the final milestone in the completion of a Master of Science in Nursing (MSN) degree. Sue McFarlan, DNP, RN, notes that the poster session "gives students the opportunity to showcase their work surrounding real world issues in nursing and healthcare and to share best practices with their peers."
Webster's 38-year old Department of Nursing offers a Bachelor of Science in Nursing and a Master of Science in Nursing to registered nurses seeking to further their education and advance in their career. The nursing curricula focus on preparing today's nurses for the rapidly evolving health care industry and the increasingly vital role which nurses play in supporting and advocating for the health of our communities.
Click here to read about specific program requirements, learning outcomes and how to apply.