Snapshots: President Stroble Speaks at Myrtle Beach Commencement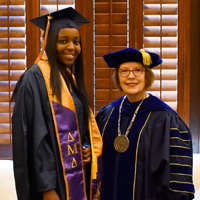 As Webster campuses continue celebrating the 100th graduating class, the Myrtle Beach graduation ceremony welcomed Webster University President Elizabeth (Beth) J. Stroble as the commencement speaker on Aug. 16. Held at the Barefoot Resort and Conference Center in Myrtle Beach, South Carolina, 73 graduates were added to Webster's Worldwide Class of 2019.
Forty-six graduates walked in the ceremony for the hooding ritual at Myrtle Beach, including those from nearby campus locations in Columbia, Fort Gordon, Shaw Air Force Base, as well as online. Graduates included four honor graduates and one Delta Mu Delta inductee.
Commencement 2019 around the World
The graduates in Myrtle Beach are part of Webster University's Class of 2019 worldwide graduating class of 5,000 graduates, ranging in age from 19 to 72, and representing 101 countries across the globe. Of these graduates, 45 are currently stationed overseas with the U.S. military.