Punch for Purple: Myrtle Beach campus holds domestic violence fundraiser event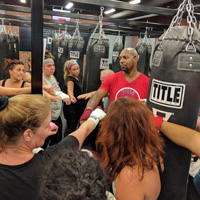 The Counseling department at Webster University's Myrtle Beach, South Carolina, partnered with local businesses on June 15 to raise awareness and advocate for those impacted by domestic violence. Together with Title Boxing Club Myrtle Beach, the Counseling department welcomed a group of 35 men and women for the advocacy event Punch for Purple.
The event was organized by faculty member Thommi Lawson. "As a counselor educator, we encourage our students to advocate for our clients, and I believe we must practice what we preach," said Lawson. "I'm a member of Title Boxing and asked if they would be willing to host an event where we not only raised awareness but raise money and collect items for those impacted by domestic violence."
Title Boxing Club owners Carl and Michelle Monsour "said yes without hesitation," said Lawson. "From that conversation, the ball started rolling. I asked my massage therapist if she was willing to donate her services and time and she said yes and recruited another masseuse to join."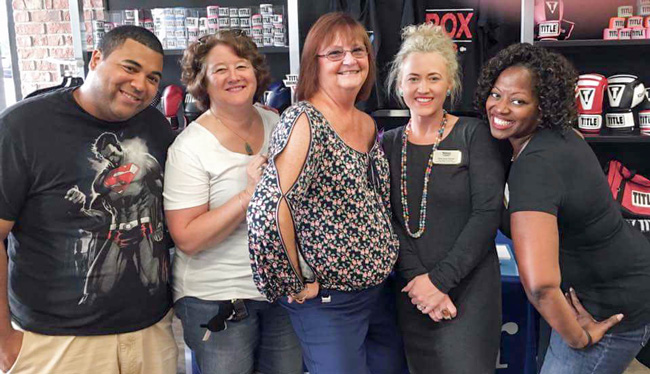 Webster Counseling program chair Diane Clark kicked off the event by discussing the warning signs and mental health impact of domestic violence on the family. Guests enjoyed complimentary chair massages and a 30-minute boxing technique class. Attendees were encouraged to bring donations such as toiletries and paper products, as well as new children's books and stuffed animals. A 50/50 raffle was also conducted. All items and donations were collected for the Family Justice Center of Georgetown and Horry Counties.
"The Punch for Purple event was exactly the type of community awareness event that we strive for—a great turnout, audience engaging, impactful speakers and a clear message that we as a community have zero tolerance for domestic violence," said Family Justice Center volunteer coordinator Jill Stone. "It was so high energy. We are truly in your debt for your leadership role on this."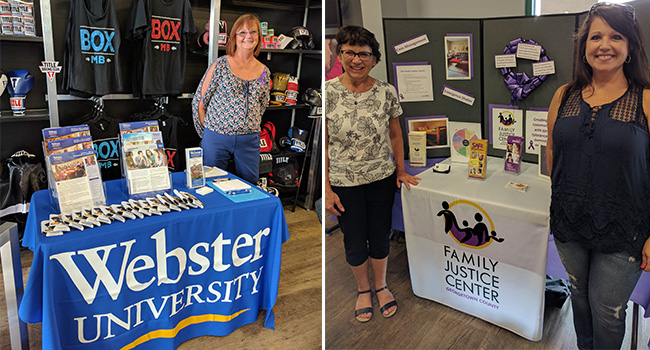 Webster's Myrtle Beach Counseling department was inpired to hold the Punch for Purple event in response to the alarming statistic that South Carolina ranks in the top five of all states in the nation for numbers of women killed by men. Nationally, one in every four women will experience domestic violence in her lifetime. If you or someone you know is in a relationship that is physically, emotionally or sexually abusive, call the 24-hours crisis toll free National Domestic Violence Hotline at 800-799-7233 when it is a safe time to do so.