Business of Football: NCR class tours NFLPA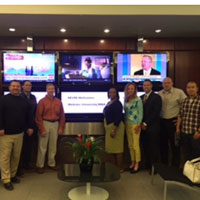 Webster University faculty member Trish Gipson always makes it a priority to take her HRMG 5000 class on a field trip each term. In the past, her classes have listened to human resources professionals speak, and one time, a particularly lucky group got to take a tour of the FBI headquarters, which has been closed to the public since September of 2001.
Gipson's students from Spring 2 were also given a field trip to remember: on May 5, she took her class to the Nation Football League Players Association (NFLPA) in downtown Washington, D.C. Set up by one of Gipson's family friends, the students enjoyed a roundtable discussion with DeMaurice Smith, NFLPA's executive director; Don Davis, the senior director of player development; and Tim English, the original legal counsel for the NFLPA. English retired in 2004.
After touring the NFLPA's facility – complete with "Welcome Webster University" TV screens in the lobby – the class sat down with Davis and English. Davis, an 11-year veteran and two-time Super Bowl champion who played for the New Orleans Saints and the New England Patriots, began by explaining the NFLPA's mission to the class.
The NFLPA is the players' union, and it makes player safety and well-being its top priority. Founded in 1956, the NFLPA assures players have proper recognition, representation, and protection.
The class learned about NFL regulations, collective bargaining, free agency, players' rights and benefits, and the consequences of doping. "The student engagement was enthralling," said Gipson. "Just incredible."
About 80 percent of the 1,900 players in the NFL are members of the NFLPA, and each member is required to take a fiscal responsibility course. According to English, who considers the NFLPA to be a welcoming family environment, the class teaches the players how to manage and invest their money wisely so they can better plan for the future.
The hot-button topic of the day was the NFL's concussion problem. English explained that while the NFL as a whole is finally taking more precautions, as a union, the NFLPA cannot do anything until a player comes to the association for help. Smith discussed the animosity between the league and the NFLPA, stating that owners would "wine and dine their recruits, have them sign a contract, and then never speak to them again." He compared the treatment to cattle: "The players are like meat," he said. "They're numbers."
What was supposed to be a three-hour field trip turned into an all-day experience the students will never forget. Even students who had never taken a particular interest in football learned much about what happens behind the scenes.