Webster the Netherlands Website Relaunched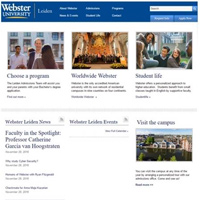 Webster University the Netherlands has relaunched its website (www.webster.nl) with the aim of enhancing the user experience by offering more easily accessible, user friendly and social media optimized resources for students, faculty and staff.
The goal was to provide visitors with an easier way to learn about Webster University, the only American university in the Netherlands. This relaunch achieves that with better services, more interactive and better access to academic programs, Admissions, events, and overall alignment with the campus in St. Louis, where Webster University was founded in 1915.
The completed project is the result of continued of collaboration between the marketing and information technology staff at Webster's Leiden, Geneva and St. Louis campuses. This follows previous relaunches of the sites for Geneva and Thailand sites to bring them online with the OU Campus content management system that was already used by Webster's U.S. campus locations.
OU Campus, developed by OmniUpdate is the leading web content management system (CMS) and digital marketing solution for higher education institutions.
Webster's Global Marketing & Communications and Information Technology teams are advancing this initiative to provide a unified platform across all international campus locations. Key drivers of the relaunch in the Netherlands include:
Craig Carmichael - director, Digital Marketing and Communications, Global Marketing & Communications

Pete McEwen - Web Design Manager,

Global Marketing & Communications

Daniel Radut - web developer, Enterprise Information Systems, Information Technology

Joijcelyn Hoost - Marketing & PR Manager, Webster University Leiden

Sue Wilcox - director, Project Management Office,

Information Technology

Tim Young - senior media and marketing assistant, Webster University Geneva