Webster Launches New Chapter for BBB National Biological Honor Society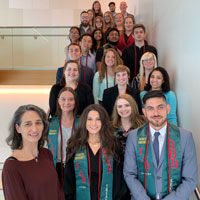 Webster University was evaluated and accepted for a new chapter of the Beta Beta Beta (BBB) National Biological Honor Society, also known as TriBeta. This is an honor society for students, particularly undergraduates, dedicated to improving the understanding and appreciation of biological study and extending boundaries of human knowledge through scientific research.
TriBeta began in 1922, and the campus chapter GDB (gamma delta beta) opened in 2019, with the founding principles of stimulating scientific interest through service, scholarly attainment through academics, investigation through research, and dissemination of information through community engagement. Since its founding in 1922, TriBeta has had more than 200,000 persons have been accepted into lifetime membership, and more than 626 chapters have been established throughout the United States and Puerto Rico.
The Webster chapter was initiated on May 4, 2019, by the North Central District director, Richard Cowlishaw, of Southwestern College.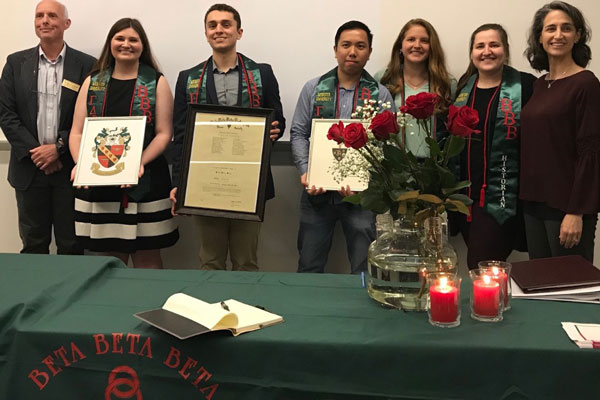 Recently, TriBeta members recruited any interested students to participate in an invasive species removal project at The Nature Institute. The Nature Institute (TNI) is a non-profit land conservation and environmental education organization based in Godfrey, Illinois. Since its founding in 1980, The Nature Institute's board and staff have worked to foster an awareness and appreciation of the natural world through preservation, restoration, and education.
On Saturday morning, Dec. 7, 2019, students took a break from studying for final exams to learn from Stewardship Director Eric Wright, who educated them in the identification of native vs. invasive plant species found in Illinois and Missouri. Students also learned about the process of habitat rehabilitation, and local wildlife interactions, and proceeded to spend several hours removing honeysuckle from the John M. Olin Nature Preserve.
TriBeta is planning more events for the upcoming year and is currently recruiting new members. Regular members must achieve both overall and major grade point averages of at least 3.0, be majors in the Department of Biological Sciences, and have completed at least three full BIOL courses.