First Year Experience Thanks Orientation Volunteers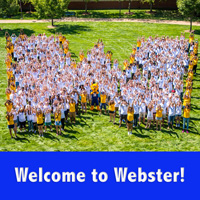 Now that the dust has settled from New Student Orientation and the first day of classes has passed the Department of First Year Experience and Undergraduate Persistence would like to extend our sincere thank you for everyone that contributed to the success of New Student Orientation.
We truly created an experience that all new Webster Students and their Families will remember for a lifetime. With week four of the semester approaching it is a vital time--now is when students will either become acclimated or not to their new life as a Webster student.
Please remember that if at any time you have reason to believe that a student is at-risk, we request that you file an at-risk referral.
Thanks for all you do for our students!
Submitted by Justin Barton, director, First Year Experience and Undergraduate Persistence