With the Webster Vienna Career Service Center, No Mission Is Impossible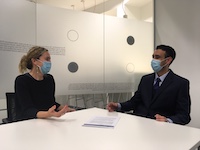 Finding a job in Vienna seemed like quite a challenge to Ali Elatraby, the young Cairene and recent graduate of Webster Vienna with a focus on Business Administration. The challenge seemed even greater when he realized that to secure a job or even an internship in a German-speaking country, speaking German is essential.
Luckily, he had an ace up his sleeve – Webster Vienna's Career Services Center. Mag. Alexandra Deubner, Senior Career Development Officer at the Career Services Center, notes: "Our service is to accompany our students on their journey to a successful career, and ensure they fully benefit from their Webster experience. We help our students to define their career goals, and we prepare them to compete for the best jobs out there."
This is precisely what Elatraby needed – to develop a strategy for his professional life, post-graduation.
"I was hanging out with some friends from the university when I got to hear firsthand that the Career Services Center helped out a handful of them to bypass the same obstacles I had. I remember hearing these exact words, 'Ms. Deubner will open up a world of opportunities to you if you just make an effort to contact her'."
Just a day later, Elatraby and Deubner were preparing for his job search by working on his CV, cover letter, and interviewing skills. Together, they created an effective search strategy in accordance with Elatraby's strongest traits. "I learned to understand how to market myself to potential employers. I have explored suitable career choices building upon my skills and interests, and most importantly, I discovered what can make me more attractive to employers," reports Elatraby.
They say, dare to dream! If you could not make your wildest wishes come true, your mind would not have the capacity to conjure such ideas in the first place. Three weeks later, Elatraby applied for an internship with the United Nations at the Vienna headquarters. "Today, I am officially two weeks away from the start of my internship, which I am very much looking forward to. I can honestly say that I wouldn't have done it without my mentor, Ms. Alexandra Deubner, and the Career Services Center," he admits.
The skills that he acquired during his period with Deubner, he's sure, will stay with him for the rest of his professional career. These skills were further reinforced and practiced in the Career Exploration Course, taught by Deubner, which he enrolled in.
"I got a chance to put what I've learned into practice, which ultimately makes me feel more confident and capable as a person. I can say that the course was rather different than most other courses I studied at Webster Vienna. This course focused on me as a person and my career building process regardless of how different or unique individual situations might be to the rest of my peers," he says.
Elatraby encourages all Webster Vienna students to engage with the Career Services Center. For him, it doesn't matter which phase of their studies students are in, or how 'unqualified' they think they might be –everyone has the opportunity to expand their horizons and reach their individual goals because, with Webster Vienna's Career Service Center, no mission is impossible.