Visiting Professors at Webster Vienna – Nominate Today!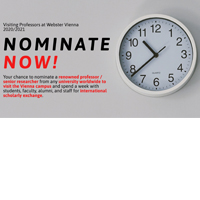 This is your chance to nominate a renowned professor / senior researcher from any university worldwide to visit the Vienna campus in 2020/21 and spend a week with students, faculty, alumni, and staff for international scholarly exchange.
Funded by the Dr. Elizabeth Chopin Visiting Professorship Webster Vienna had the pleasure to host David Shambaugh from George Washington University, Iver Neumann from Oslo University, Marwan Kraidy from the University of Pennsylvania or Philip G. Zimbardo from Stanford University amongst others in the past.
Students, faculty, alumni, staff, and members of the Webster network are invited to cast nominations.
The deadline for nomination is February 29.
Nominate someone by filling out the form here.
This Visiting Fellowship is awarded twice an academic year to international senior researchers from within and beyond the Webster academic community.
***