Webster Offers Free Use of Apartments to Doctors and Nurses on the COVID-19 Frontlines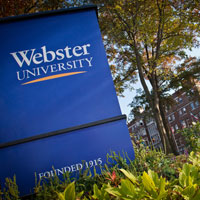 More than a dozen doctors and nurses working on the frontlines of the COVID-19 pandemic in St. Louis will have their lives made a bit easier, thanks to Webster University. The University is making 15 apartments in the North Hall complex adjacent to its main campus available for free to medical personnel who need to live closer to Mercy South Hospital during the pandemic.
"This is a crisis that requires us all to work together and rely on each other. Webster University has a history of offering support to our community, and in this time of need, it is even more important to offer relief and assistance to those who are putting their lives on the line every day trying to keep us healthy," said Webster University President Julian Z. Schuster. "We have a great relationship with Mercy Hospital through our top-rated nursing program and many of our students and alumni work there. Our entire community at Webster did not hesitate in responding and helping our partners and friends at Mercy."
According to officials at Mercy, the apartments will be offered to nurses and doctors who work 12- to 14-hour shifts three to four days a week at Mercy South in areas that are treating both suspected and confirmed positive cases of COVID-19, and have long commutes to their homes after their shifts. By using the Webster-run apartments, the medical personnel will be able to drastically reduce their commute time on their workdays, giving them more time to rest between shifts.
The North Hall apartments each have a bedroom, bathroom, kitchen area and small living room and come furnished. Webster will provide each resident with keys to the facility and a set of clean linens. North Hall also has a laundry facility that is free to the residents as well as access to high-speed wireless internet.
The medical staff will be allowed to use the building until mid to late July. After they move out, the building will be kept empty for several days and then a professional crew will enter the building to deep clean and disinfect it before students move back into the building in late August for the 2020-2021 academic year.
This isn't the first donation Webster has made to the community during the COVID-19 pandemic. In March, Websters Department of Biology donated all unopened boxes of gloves, face masks and protective gowns to Mercy. During the past six weeks, many of Webster students, faculty and staff have also contributed to the community effort to keep the community safe. Nearly 300 of Webster's students in its nursing programs are currently working in hospitals daily, while faculty and staff have offered free help to local small businesses in applying for emergency Small Business Administration Loans, given advice through media and various organizations on how to care for a person's mental health during the crisis, assisted teachers in bringing their classrooms online, and helped create masks for members of the community.
For more news about Webster University, visit news.webster.edu.