Nurse Anesthesia Students, Faculty Present at AANA Congress

Webster University Nurse Anesthesia faculty and students in the third-year cohort recently attended the America Association of Nurse Anesthetists Annual Congress, presenting their research at this significant national meeting.
The event in Boston included an array of presentations and workshops for members, with Webster students having a front row seat to all the festivities.
Five posters were presented representing the research efforts of Webster graduate students, with one qualifying for the competition. Rita Duke and Megan Weber were selected for an oral presentation of their research, "The effect of sevolfurane on neprilysin activity in differentiated PC12 Cells." They competed with many applicants for the coveted spot of an oral presenter, an honor accompanied by a $1000 scholarship.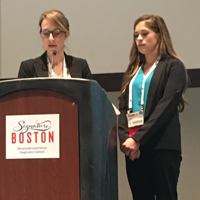 Nurse Anesthesia faculty and research chair Ron Gaddis were also there to cheer them on. "I am not exaggerating when I say their presentation was exceptional," said Jill Stulce, associate professor and director of the Nurse Anesthesia program.
Megan Brennan was selected from many applicants to receive a scholarship $3000 for her valued contributions as a student member on the Board of Directors for the Missouri Association of Nurse Anesthetists.
Vicki Coopmans presented at the AANA Foundation State of Science Forum on a topic of ongoing collaborative, student-facilitated research with Gaddis on substantiating the A-OK Protocol. Coopmans is exploring why the combination of atropine, ondansetron and ketoralac appear to thwart the deleterious hemodynamic cascade associated with amniotic fluid embolism in the parturient.
The entire experience was invaluable for students and faculty alike, Stulce said. "We are thankful for Webster providing an academic environment for our students to transform into high quality, patient-center nurse anesthetists!"