Nurse Anesthesia Program Raises Money for Mission to Guatemala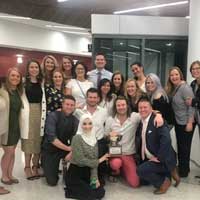 ST. LOUIS - Senior students in the Webster University Nurse Anesthesia Program will travel to Guatemala in February and March to provide much-needed assistance to communities in that nation, thanks to a partnership with non-profit organization Refuge International. While in that Central American nation, the students will extend their skills that they have learned in Webster's classrooms and the varied clinical affiliates.
To help pay for the trip, the students have created a GoFundMe account.
"Since I became the program director in 2008, it has been one of my desires to identify a global opportunity for the nurse anesthesia program by tapping into Webster's worldwide presence," said Nurse Anesthesia Program Department Chair and Professor Jill Stulce. "However, the demands of the program and lack of resources prevented this goal from being realized."
That is, until now, Stulce said. "Recently, one of our third-year students, Laura Kohler, brought to my attention an organization named Refuge International, which assists students and faculty in participating in medical missions."
Refuge International, founded in 2003, prides itself on its mission to bring U.S.-quality care to people in remote areas of Guatemala. The organization sends mixed teams of doctors, nurses, students, teachers, medical technicians, and volunteers to the region.
Through Refuge International, the Nursing Anesthesia Program could participate in up to three medical mission trips, according to Kohler. "The first trip will be in February to San Raymundo. We're looking to send five students to that one. Then in March, we would send three students to Sarstún," Kohler said. "Then again in May, we'd offer second-year students the opportunity to go to the Women's Health Jornada, back in San Raymundo."
Each trip offers a different experience, according to Kohler. "San Raymundo is a larger area," she said. "There are three operating rooms (OR) and a lot of general cases, so the students would be providing pre-operative care, assessing patients, intraoperative anesthetic management, as well as post-operative anesthesia recovery care."
Sarstún, however, is much more rural than San Raymundo. "There's one OR and they do about 30 cases a week, performing general surgeries, belly surgeries, and orthopedic surgeries," Kohler said. "At the Women's Health Jornada, they actually are a specialized Women's and Children's clinic, so the students would be participating in the anesthesia care for women undergoing hysterectomies and cases like that to help the women out there who otherwise would not receive that kind of care."
Webster University's Nurse Anesthesia program is one of the best in the region: 100% of students pass their certification tests; out of those, 94.4% pass on the first try, and 100% of students get jobs right out of college. It is this success rate that makes the program stand out among others, and why going on this medical mission trip is so important: it will give the students invaluable experiences that will make them even more successful.
"The personal gain is unmeasurable," Stulce said. "I am hopeful that the selfless sharing of their time and talent for the personal gain others will fulfill them in a way their clinical experiences here in the states could not.
"From a professional standpoint, providing quality, comprehensive anesthesia services without all the resources available here will further develop their ability to critically think and problem solve in the moment," she added.
One area of professional gain, according to Kohler, is that the students will be in an environment using tools, equipment, and drugs that they aren't exposed to in America. "In America, we use a lot of anesthetic gases that we will not be able for use in Guatemala. We will have to use drugs and gases that haven't been used for anesthetics in the United States for decades. In addition, students will need to use their knowledge to provide safe care in an environment where there are not nearly as many monitoring devices available."
"It is the desire of the profession to expand the leadership skills and responsibilities of the nurse anesthetist beyond the doors of the operating and obstetrical suites," Stulce said. "We wish to cultivate in our students a sense of global citizenship. We are fortunate to live in an environment where we can gain the kinds of skill sets that alters the lives of others for the better. We believe sharing that with those less fortunate is a responsibility."
Kohler agreed. "I can think of no better way to serve people around the world than by using my knowledge of anesthesia to improve lives. Not everyone has the opportunity to obtain higher education, so I want to use my good fortune to help others."
The students will be going to Guatemala on Feb 15-22, 2020. All of this, of course, depends on the funds, Kohler added. "The trip in February is the only one I am 100% sure about. I am about 50% about the other two depending on how fundraising efforts and organization goes from the first mission."
The students set up a GoFundMe page to pay for the planned trips. Anyone who wishes to donate is encouraged to, and all donations would be tax-deductible as they would be considered donations to Refuge International.