Webster Receives State Grant to Enhance Nursing Program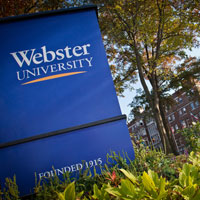 Webster University was awarded a grant for the Nursing Department, it was announced Tuesday. Webster will receive $112,013 from the Missouri Department of Higher Education and the Missouri Board of Nursing through the Nursing Education Incentive Grant program.
Webster will use the grant to purchase a patient simulator to further enhance Webster's Master of Science in Nursing program.
"Our students will be better prepared to incorporate simulation into their teaching making them doubly effective in addressing nursing workforce shortages," said Jan Palmer, chair of the Nursing Department. "In addition to joining the nurse educator workforce, our students will be able to supplement clinical experiences of pre-licensure students and other nurses with simulation."
A patient simulator is a computerized mannequin that can simulate health issues such as an irregular heartbeat, respiratory issues, neurological issues or other health challenges that a nurse may encounter in a typical clinical environment.
A 2014 National Council State Board of Nursing study demonstrated that high-quality simulations could replace as much as 50 percent of a nursing program's clinical hours and better prepare nursing students for skilled and safe patient care. Simulated experiences expose students to critical events, promote critical thinking, and can reduce anxiety when a nurse encounters a real patient with similar symptoms. The grant will be used to purchase a high-fidelity simulation manikin and pay for related faculty training on how to use the simulator with nurse educator students. The simulator will be housed in Browning Hall, the Interdisciplinary Science Building, when it opens later this year.
""This grant will help expose our students to the latest technologies and ideas being used in nursing, and prepare them for an ever changing practice environment," said Jennifer Broeder, interim dean of the College of Arts & Sciences. "When Browning Hall opens in the fall, the patient simulator will be one of many resources available to our students that will help educate them to be among the best nurses in the country."
According to state officials, the grants are intended to increase the number of nurses in Missouri, especially in areas where a shortage of health care professionals exists.
"These grants will provide valuable educational opportunities for many students and help meet Missouri's growing need for highly trained health care professionals," said Zora Mulligan, Missouri commissioner of higher education.
The other institutions that received grants are Columbia College; Crowder College, Neosho; Jefferson College, Hillsboro; State Fair Community College Sedalia; and the University of Missouri – Kansas City.
To learn more about Webster's Nursing Department and the programs it offers, visit www.webster.edu/arts-and-sciences/academics/nursing/.