Disability Awareness Month: Sharing tips each Monday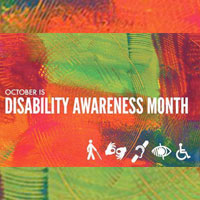 National Disability Employment Awareness Month (NDEAM) is a national campaign held in October that raises awareness about employment issues for disabled people, and celebrates the many and varied contributions of America's workers with disabilities.
Five Disability Awareness Tips
Webster University's Accessibility Committee will be sharing one tip each Monday in the Webster Today email digest.
To read these Disability Awareness Month tips, follow the links below.