Domestic Violence Awareness Month: Wear purple on Oct. 22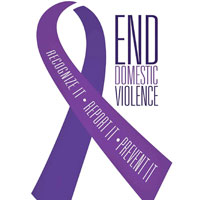 October is Domestic Violence Awareness Month. During the COVID-19 health crisis, domestic violence is on the rise, with some countries reporting more than double the usual number of calls to hotline and support services. (nomore.org)
Thursday, Oct. 22: Wear purple
The Title IX Office invites you to join in the conversation by wearing purple on Thursday, Oct. 22, to show your support for victims of domestic violence and to bring awareness to the epidemic of domestic violence co-occurring with the pandemic.
How You Can Help
Many victims of domestic violence do not feel like they can leave due to the offender's restriction of finances or isolation from the victim's family. They may feel alone, stuck, and paralyzed by fear. You may be their biggest hope for help. If you or someone you know is in a volatile domestic situation, say something.
You can contact your local police (911), the Title IX Office (314-246-7780 or titleix@webster.edu), or Human Resources (314-246-7580) for resources. Also, loveisrespect.org and rainn.org are accessible 24/7 and provide confidential hotlines for help and guidance.
Video Resources
Warning: The short videos below provide education that is poignant and provoking, but may also be triggering to victims of domestic violence.