Office of Admission Welcomed 14 Community College Advisors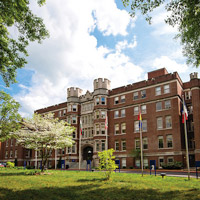 The Office of Admission welcomed 14 community college advisors to campus for a Community College Luncheon. Webster faculty members shared information with our guests about new and existing programs, and how transfer students can successfully prepare for admission to those programs at Webster.
Rich Dippel, associate professor in the Walker School of Business, and Jack Croghan shared news about Webster's new Sports and Entertainment emphases for Business Administration and Management students.
The Department of Audio Aesthetics and Technology had two representatives, Tim Ryan, department chair, and Tori Meyer, associate professor, speak about the changes in their department. New degrees will be offered to students in the next academic year: BA in Audio in Media Arts and BS in Sound Recording and Engineering.
Herman Krueger, associate professor and co-chair of the Department of Biological Sciences, provided updates about programs and special scholarship and research opportunities offered by the department.
The School of Education was represented by Basiyr Rodney, department chair for Teacher Education, and Sheila Jordan. Rodney and Jordan shared information on degrees offered within the Department of Teacher Education. They also discussed the grant Webster recently received that is aimed at educating more teachers for the STEM field.
Guests also heard from Chrissy Gilbert, associate director of Transfer Admissions, as she shared information related to transfer scholarships, study abroad, and Webster's strong academic supports in place for students.
Following the academic updates, some of the guests stayed on campus to enjoy personalized tours of Browning Hall led by Krueger and of the (re)-imagined Sverdrup Hall, led by Eric Rothenbuhler, Dean of the School of Communication.