Office 365 Did You Know? New Outlook vs. Old Outlook
You have the option to toggle between the Old Outlook and New Outlook versions in the Office 365 Outlook web application based upon your preferences.
1. Log in to Office 365 at https://portal.office.com and click on Outlook.
2. Locate the toggle button to switch between Old Outlook and New Outlook at the upper right.

The overall interface and functionality of the following areas in Office 365 are impacted with the new version:
Please note if you are currently using Office 365 to manage a Distribution Group, the Distribution Group settings are currently accessible only through the Old Outlook.
Microsoft has not yet announced any date for a full rollover to the New Outlook version, but we will continue to keep the community informed if that changes.
Microsoft is continuing to collect feedback from users on their experience with the New Outlook. If you have any feedback you wish to share directly with Microsoft, you can do so through the UserVoice forums. When you toggle off the New Outlook button, you will receive the following popup window: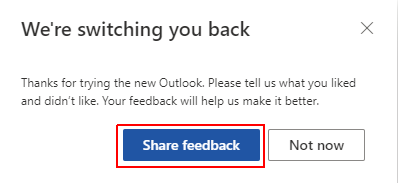 Clicking on the Share feedback button will take you to the forms where you can vote or comment on other people's feedback/ideas or leave your own.
Have a topic you would like to see covered in a future Did You Know article?
Please reach out to Jeffrey Salas at jeffreysalas86@webster.edu.
Check out these additional Office 365 resources