Oklahoma Highway Patrol Graduates can Transfer Credits to the Criminology Program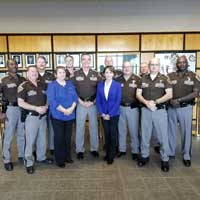 FORT SILL, OKLAHOMA - Webster University has entered an agreement with the Oklahoma Highway Patrol that will allow graduates of the Oklahoma Highway Patrol Academy to transfer earned credits into Webster University's BA in Criminology and Criminal Justice Program.
The agreement to accept Academy units was reached last month.
"Education is the most powerful tool that we can equip our Troopers with," said Col. Rick Adams with the Oklahoma Highway Patrol. "We are very proud that the Oklahoma Highway Patrol's Training Academy is among the nation's most challenging. We are also honored by Webster University recognizing both the quality and rigor of our unique training environment."
Academy courses that are eligible to be applied to a Criminology and Criminal Justice degree are:
Introduction to Legal Matters
Police and Patrol Procedures
Law Enforcement Ethics
Crime Scene Investigations
Community and Human Relations
"It was a pleasure touring the Oklahoma Highway Patrol training facility and learning about the rigorous physical and mental exercises that are required to become an officer," said Trish Hale, representative of Webster's Fort Sill, Oklahoma, location. "We are very excited to be able to partner with them and offer transfer credits for their training."
"We are proud to announce our new agreement with our Oklahoma Highway Patrol," said Sandra Kunz, southwest regional director for Webster University. "This new educational partnership will provide our Highway Patrol transfer credit for their Academy training with the opportunity to take resident courses at Fort Sill, Tinker Air Force Base, or online. The Academy will regularly schedule our local Webster team to meet each new class and present our programs with an invitation to become a Webster student. We applaud our Oklahoma Highway Patrol Chief, Rick Adams, for his leadership in bringing our exceptional Webster University educational programs to his team and to the Academy.
"We proudly recognize some of our remarkable Webster colleagues since it was due to their unwavering investment of time, energy, and effort that finalized another outstanding agreement," Kunz added. "Our Webster team is composed of stellar professionals that are committed to making new opportunities into realities by bringing quality education to another group. The impressive Webster team spirit was personified and we offer our appreciation to each, including professors Remy Cross, Joe Roberts, Danielle MacCartney and academic staff Kim Kleinman, Christina Gilbert, Dawn McCracken, and Tom Nickolai. This is a significant component in our Webster team that brands us Webster strong!"
Webster University has entered into similar agreements with police academies in the St. Louis and Kansas City regions. The University also has a program that allows first responders – on-duty police officers, firefighters, paramedics and others in similar jobs – to attend the University with a reduced tuition.
For more information about Webster's programs for law enforcement academy graduates, visit www.webster.edu/admissions/transfer/policeacademytransferguides.html. For more information about Webster University's Criminology and Criminal Justice program, visit www.webster.edu/arts-and-sciences/academics/anthropology-sociology/criminology.html.