Local Companies Visit in Campus Recruiting Program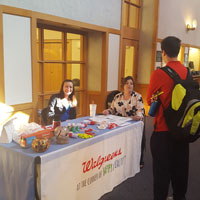 As part of the Career Planning and Development Center's On Campus Recruiting Program, local companies visited campus to talk with students about part-time and seasonal opportunities on Tuesday, Oct. 17.
Walgreens promoted immediate Customer Service Associate positions available at the Webster Groves and Crestwood locations.
The store manager, Anita Turek, said, "Our in-store team members happily serve our millions of customers every day, and we truly believe that sets us apart and makes us who we are." Turek greeted many students and explained the management potential that starts with associate positions in the store.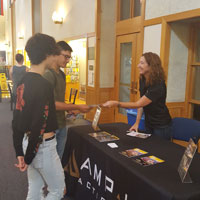 Earlier this month, the new indoor action park, AMP UP came to campus promoting management, part-time and seasonal jobs that accommodate a student's class schedule.
Owner Kim Link explained, "Because our indoor action park is brand new, we are creating a brand new team in St. Louis. That's why we're seeking four managers and more than 40 part-time team members. This is your chance to make a difference from the starting line."
For more information about these opportunities and to connect with the recruiters, go to Gorlok Career Link, Webster University's online career management and recruiting system.