Alumni in the News: Stokes film, 'One Brick Shy,' Sanders on Nine
Recent news media coverage of Webster University alumni includes:
Alumnae McDonald, Dorning, O'Neill are 'One Brick Shy'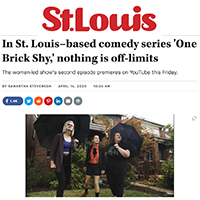 Alumnae Jenna McDonald, Abby Dorning and CeCe O'Neill were profiled in STL Magazine for their YouTube hit, "One Brick Shy," which is creating a buzz.
Shot in St. Louis, their show is described as an "It's Always Sunny in Philadelphia–meets–Bridesmaids series that the 27-year-olds have been jotting down jokes for since meeting one another, in 2011, at Webster University.
It's an ode to their friendships, experiences, and a "certain self-deprecating humor that's really genuine to the Midwest," says O'Neill. It's best summed up, she adds, as "Charlie Day meets Jessica Day."
Read their profile at STLmag, and catch all their "Brick" episodes on YouTube.
Sanders '04 Teaching on Nine during Pandemic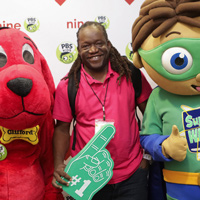 This week, the Nine Network public TV station began airing "Teaching in Room 9," a grade-appropriate instruction program taught by committed St. Louis-area educators at home, ensuring all kids in our region have access to quality teaching during the academic year shutdown and into the summer, regardless of access to internet or computers.
Webster alumnus Dr. Albert J. Sanders, (MAT '04) is among a dozen local teachers providing two hours of pre-K-4th grade literacy and math instruction as part of the program during the pandemic.
Sanders, an educator for over 20 years who teaches at Adams Elementary in St. Louis Public Schools, was also a 2018 Emerson Excellence in Teaching Award winner. He is one of three educators focusing on Math for Pre-K- 1st Grade during the 1:30 - 2 p.m. time slot.
Stokes Profiled for 'Ghost' Netflix Hit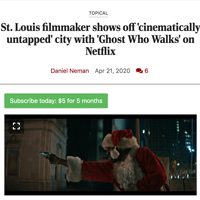 Cody Stokes '07 was featured in the St. Louis Post-Dispatch for his film, "The Ghost Who Walks," which recently hit the top 10 on Netflix.
"Shot in St. Louis, 'The Ghost Who Walks' tells the story of a man who is released from prison early after providing evidence about his former boss. The boss, a gangster, wants him killed, but he only wants to get back together with his girlfriend and meet the 5-year-old daughter he has never known."
Several other Webster alumni also worked on the film, including Global Marketing & Communications producer Gypsi Pate. And the creators now count Snoop Dogg as a fan.