Students Form 'W' Across World of Webster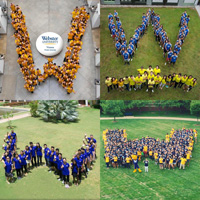 An annual tradition of New Student Orientation activities at Webster University is the forming of a "W" in the quad to show school pride and unity. Last weekend saw that tradition come alive once again.
Here's how it looked at campuses in St. Louis, Geneva, Vienna and Cha-am, Thailand.
New students range from graduate students advancing or changing careers to undergraduate freshmen preparing begin college while commuting to or living on campus.
See more and share links to the following New Student Orientation scenes on social media using the hashtag #new2webster and #WeAreAllWebster.
Visuals to Share