Orlando Hosts Award-Winning Columnist on Financial Fraud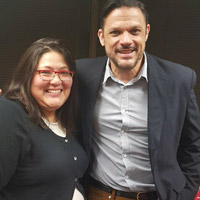 Webster Orlando hosted columnist Paul Brinkmann, who spoke to management accounting students in the George Herbert Walker School of Business & Technology about financial fraud.
Brinkman, an award-winning journalist focused on business news in a digital format, writes the "Brinkmann on Business" column for the Orlando Sentinel.
The St. Louis native has written several articles on the Webster Orlando campuses' planned move to downtown later this summer.