Webster Junior Soccer Player Named To NSCAA Scholar All-Region Team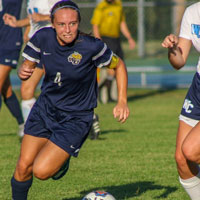 Webster University women's soccer player Brianna Pagan was named to the National Soccer Coaches Association of America's (NSCAA) 2016 NCAA III Scholar All-North/Central Region Second Team. Pagan was one of only two players from the St. Louis Intercollegiate Athletic Conference (SLIAC) recognized by the NSCAA for their academics.
Pagan, a junior from Washington, Missouri, is a midfielder for the Gorloks and carries a 3.86 cumulative grade point average (GPA) while majoring in mathematics. An NSCAA NCAA III Scholar All-North/Central Region winner must be nominated by their head coach, a junior or senior with at least a 3.30 GPA and have started in more than 50 percent of all games. This is Pagan's third consecutive time being selected for this award.
This past season, Pagan had five goals and a team-high seven assists. She was also a SLIAC First Team All-Conference pick and was named the MVP of the 2016 SLIAC Tournament.