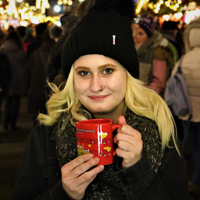 As an American Study Abroad student, Josie Bowles lights up when explaining that coming to Vienna and attending Webster Vienna Private University was one of the most exhilarating things she has ever done in her life. A third-year student studying Dramaturgy and Theatre studies, she was a Study Abroad student for two consecutive periods: a spring 2019-break program in the Galapagos, and a fall 2019 Semester program in Vienna.
"Some people might have been a bit scared, and I would be lying if I said I wasn't just the least bit afraid of the unknown, but I have always been one who chased after adventure," she admits.
The adventure that Webster Vienna has provided her is one that Bowles will cherish for life. She revealed that adjusting to the Webster Vienna student lifestyle was not hard at all, "immediately everyone from the Student Government Association (SGA) greeted us and made me feel like part of the community. Whenever I had any issues they would be there to help me in a heartbeat." Although Bowles did not pursue becoming an SGA member, she would recommend the club to anyone looking to get involved with an engaged group of Webster Vienna students.
The fact that Webster Vienna did not offer her major helped Bowles open herself up to new classes and a new way of thinking. "Even if Webster Vienna does not offer the desired major, I still recommend taking classes that excite you, for it will be the best decision of your life and of course you will learn a lot about Sigmund Freud (who was an Austrian neurologist and the founder of psychoanalysis)", she suggested.
Bowles explained that she picked Vienna as her study abroad destination for a number of reasons. Originally, it was because Austria has a conveniently central location in Europe, which would allow her to travel to other countries more easily, but she did not expect to end up loving the city itself so much.
"I have traveled a lot, but I am glad to come home to Vienna each time. It is weird to think that this place that was foreign to me four months ago has now become my home", she said. "Vienna is one of the most beautiful and culturally embracive cities I have visited in the world. There is a new holiday or tradition each month that gives you insight into Austrian life. Enjoying a large number of parks, rivers, water sports, beer gardens, vineyards, and festivals offers great entertainment from spring to autumn, while throughout the winter, the city transforms with Christmas markets, ice rinks, and even a few ski slopes. All of that is combined with outstanding transportation, which means that every corner of the city is accessible within 30 minutes," she concluded.
Bowles' favorite Viennese tradition so far has been the Christmas Markets, which light up the city from November until January. The delicious aromas and inviting atmosphere are enough to bring Christmas cheer to anyone. The majority of the markets are conveniently located next to some of the most historically significant and beautiful buildings in Vienna, so as you are drinking your Glühwein you can learn a little bit of Viennese history.
A perfect match, one might say!