'Perspectives on the Conflict in Northern Syria' Seminar Nov. 16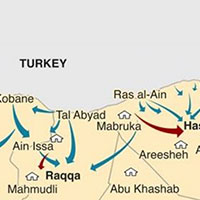 Webster University History and International Relations faculty members will present "The Turkish Attack & the American Retreat: Perspectives on the conflict in northern Syria" on Nov. 16.
Assistant Professor Burcu Pinar Alakoc, an expert on terrorism and Middle Eastern politics, along with global history professor and historian Warren Rosenblum, will discuss President Trump's removal of American troops from Northern Syria that brought fierce criticism from across the political spectrum.
In the wake of Turkey's incursion, tensions have flared between the United States and one of its closest allies in the Middle East (and a fellow member of NATO).
This event is open to all and will be held Saturday, Nov.16, from 10 a.m. – noon in the H. Sam Priest House room 104 at the Webster University main campus in Webster Groves. Parking is available in Lot K.