Webster University Named to Transfer Honor Roll for Third Consecutive Year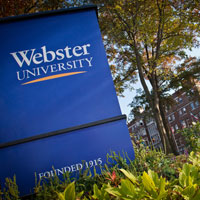 ST. LOUIS –Webster University was named to the Phi Theta Kappa (PTK) Transfer Honor Roll for the third consecutive year. PTK is one of the nation's pre-eminent organizations that focuses on the academic achievements and scholarship of community college students. The Honor Roll recognizes academic institutions that offer the best services to students who are transferring from a community college to pursue a bachelor's degree.
This year, 78 institutions were named to the list. More than 300 applied to be included.
"A growing number of students are attending community colleges before entering a bachelor's degree programs, and Webster recognized the need for more services and programs for those students to enable students' transition from one academic system to another," said Webster University President Elizabeth (Beth) J. Stroble. "The dedication of our faculty and staff to helping students succeed is reflected in this recognition."
Data from the U.S. Department of Education's National Center for Education Statistics, as reported in the Integrated Postsecondary Education Data System (IPEDS), says that full-time transfer students at Webster complete their programs at a higher rate than first-time students who did not transfer. According to the federal data the 6-year award completion rate (earning a bachelor or certificate) for full-time transfer students is 67 percent for those who also receive a Pell Grant, and 70 percent for those who do not receive a Pell grant. Both rates are higher than the median rates of their peer group (55% and 65%). Students who receive Federal Pell Grants come from households that earn less than the national median income.
Overall, Webster has the second-highest graduation rate for full-time transfer students and the third-highest rate for part-time transfer students out of all St. Louis regional universities and colleges, the IPEDS data says.
Colleges were selected to the Honor Roll based on their Transfer Friendliness Rating, given to them based on the Transfer Profile they create and complete in PTK Connect, an online tool created by PTK that helps students find their best-fit colleges, career pathways, and more. It launched in the fall of 2018. Students can search for colleges by name, scholarship offerings, or cost, and they can use the Transfer Friendly ratings to help evaluate where they'd like to enroll.
The Transfer Profile asks colleges questions about admissions practices, cost of attendance, campus life, recruitment practices, and peer reviews. It is meant to reflect what the transfer student experience is like at their colleges, as well as the strategies colleges are taking to support and enroll transfer students.
"Numerous studies have concluded that the St. Louis region needs more residents with college degrees in order to meet emerging jobs which require specific technical skills," said Julian Schuster, Webster's provost, chief operating officer and senior vice president. "By supporting transfer students, we are providing a pathway to meet the community's needs while also providing opportunities for students to attain their educational goals as efficiently as possible."
Programs available to transfer students considering Webster University include:
Dual admission agreements with St. Louis Community College and Lewis & Clark Community College that make it possible for nursing students to be jointly admitted to L&C or STLCC and Webster University and provide the students the opportunity to seamlessly complete a Bachelor of Science in Nursing at Webster University
Dual admission agreement with Southwestern Illinois College to streamline the application process and make more resources available for transfer students transitioning from SWIC's associate degree programs to one of more than 70 bachelor's degree programs at Webster.
A National Science Foundation grant for $647,669 over five years (2017 – 2022) to help recruit and retain community college students who transfer to Webster to complete degrees in the biological sciences. The money is used to create scholarships, academic assistance programs for struggling students and career counseling for students who are about to graduate.
A variety of department- and program-level transfer guides developed with area community colleges that outline degree pathways from the associate to bachelor's degree.
A Phi Theta Kappa Distinguished Achievement Full-tuition scholarship is awarded each year to an incoming transfer student and Phi Theta Kappa member who shows high academic achievement and leadership experience.
A Phi Theta Kappa scholarship of $1000 is awarded to all full-time transfer students to Webster with proof of PTK membership.
Special Transfer Tuesdays programming for prospective transfer students, which includes a transfer presentation, individual meeting with an admission counselor, a student-led campus tour, and a session with financial aid.
Numerous orientation events for transfer students to help with the transition.
For more information about the honor roll, or to see a complete list of all institutions named, visit https://www.ptk.org/Scholarships/TransferHonorRoll.aspx.
To learn more about Webster University's Transfer Students Program, visit http://www.webster.edu/admissions/undergraduate/transfer.html.