Webster Sponsors Phi Theta Kappa International Convention, Joins PTK in Centennial Celebration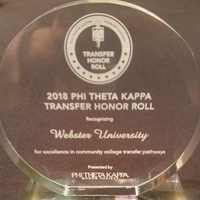 Individuals from the Office of Admission transfer team represented Webster University at the Phi Theta Kappa International Convention, held April 19-21 in Kansas City, Missouri. Webster was a diamond-level college sponsor for the annual convention.
The convention was a special one for the international honor society, as Phi Theta Kappa celebrated its centennial this year by "coming home" to Missouri (Phi Theta Kappa was founded in 1918 at Stephens College in Columbia, Missouri.) Phi Theta Kappa is the official honor society of community colleges; it's mission is to recognize academic achievement of college students and to provide opportunities for them to grow as scholars and leaders.

Transfer team members Damian Whitney, Kelsey Bourne, Stacey Tunnicliff, Joan Finder and Chrissy Gilbert engaged with Phi Theta Kappa students and advisors throughout the convention at the Webster kiosk in the convention marketplace, during two senior college fairs, and during the general sessions.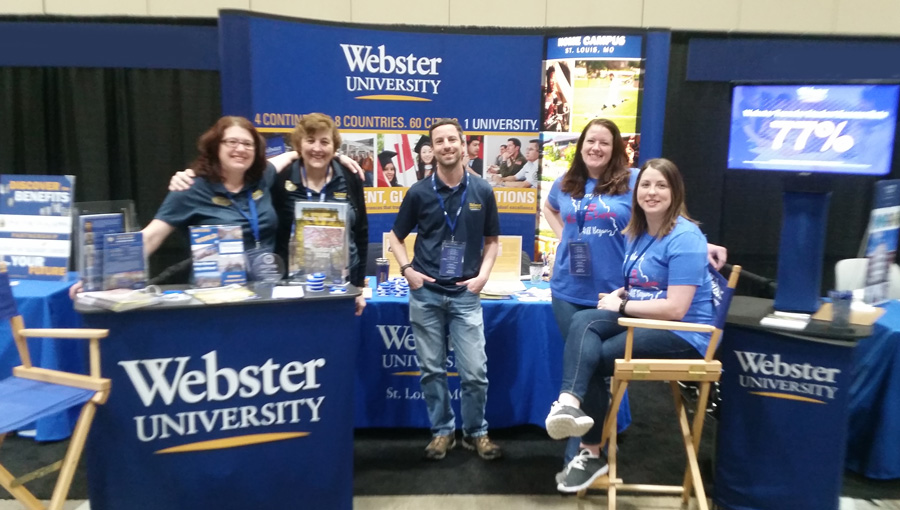 The University continued its support of the Missouri region at this convention, as the team was given the opportunity to address the Missouri PTK chapters during the regional meeting. Webster was the official sponsor of General Session 3, in which Phi Theta Kappa CEO and president Dr. Lynn Tincher-Ladner addressed the crowd. The session opened with a video showcasing Webster's international learning opportunities and global mission.

Webster University was also honored in a special ceremony held for scholars and transfer partners. It was announced earlier this year that Webster was named to the Phi Theta Kappa Honor Roll for the second consecutive year. During the ceremony, the transfer team received the Honor Roll award and certificate on behalf of the University.