Webster Sponsors Phi Theta Kappa, Receives Honor Roll Award for Third Consecutive Year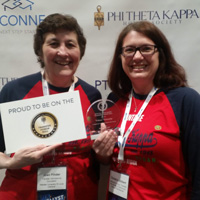 Last week, Joan Finder and Chrissy Gilbert from the Office of Admission attended the Phi Theta Kappa Catalyst! International Convention in Orlando, Florida.
Webster was a sponsor and exhibitor for the convention, where more than 3700 community college students attended and spent the week networking, attending educational forums, being inspired by keynote speakers, and gathering information from 4-year colleges and universities.
The sponsorship included a special presentation to all students who were campaigning to be Phi Theta Kappa (PTK) international officers and a Webster table in the Marketplace throughout the convention where students could ask questions and pick up information about transfer and scholarship opportunities. Webster also participated in the College Fair on Friday and the special college fair for PTK advisors on Saturday.
Finder and Gilbert accepted the Phi Theta Kappa Honor Roll award on behalf of the University, an honor Webster has held now for the third consecutive year, due to its strong transfer pathways and support of community college transfer students. College Factually has also recognized Webster as among the best in the nation for returning adult and other nontraditional students.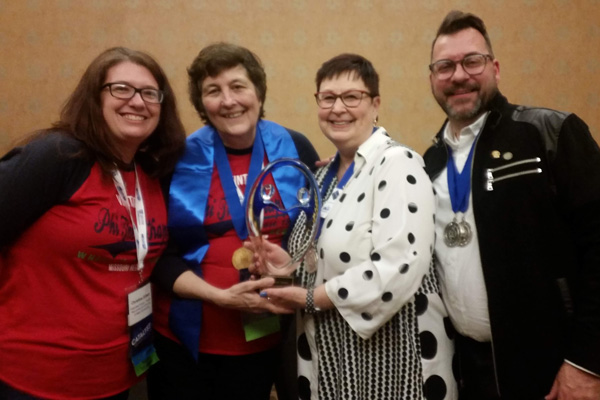 This Catalyst convention was particularly special for Finder, as she was recognized for her long-time support and friendship of the Phi Theta Kappa organization. Jo and Steve Fritts, Regional Coordinators of the Missouri Region of PTK, presented Joan with a special gift, PTK stole, and medal.
Joan has been attending PTK conventions and building relationships with PTK advisors on behalf of Webster for more than 20 years, and her efforts through the years helped lay the foundation for the great partnership that we enjoy with Phi Theta Kappa today.
About Phi Theta Kappa
Phi Theta Kappa is the world's largest and most prestigious honor society for two-year college students, established first at Stephens College in Missouri in 1910 as Kappa Phi Omicron. In 1918, the society was renamed Phi Theta Kappa, became nationally organized, and this year the society is celebrating its 100th birthday.