Webster University Recognized by Phi Theta Kappa Society for Support Offered to Transfer Students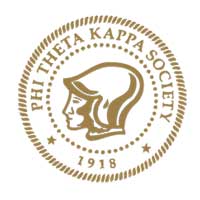 ST. LOUIS - Webster University was named to the Phi Theta Kappa Society Transfer Honor Roll for its work in helping students transfer from community colleges into baccalaureate programs. Webster is one of only 63 institutions, and the only university in Missouri, to make the list. The recognition was announced earlier this month.
Phi Theta Kappa is one of the nation's pre-eminent organizations that is focused on recognizing the academic achievements and supporting the scholarship of community college students. It was founded in 1918.
"Webster University has long assisted students in making the transition from community college to the university, and we are proud to be recognized for their success and ours," said Webster University President Elizabeth (Beth) J. Stroble. "The accomplishments of these transfer students reflect their talent and dedication paired with the commitment of exceptional Webster faculty and staff."
Phi Theta Kappa asked universities to apply for the honor and then scored each university according to the application data. Scores were determined based on institutional partnerships, community college collaboration, pre and post transfer institutional support, data tracking and transfer pathway innovations.
Among the factors considered in placing Webster University on the list were the number of support programs offered to community college transfer students. These included numerous institutional partnerships and community college collaborations, institutional support offered to students before and after they transferred, and data tracking. The review of Webster's programs also included recommendations from a community college partner and a transfer student.
"One of the key goals for the St. Louis region is to increase the percentage of the population who hold bachelor's degrees so that we as a region can meet future demand for emerging jobs and occupations" said Julian Schuster, the provost, senior vice president and chief operating officer of Webster University. "It is vital that we make the transition from community college to an undergraduate program as smooth as possible, so that college students can select the path to a degree that best suits their needs."
Programs available to transfer students considering Webster University include:
An agreement between Lewis and Clark Community College and Webster University to streamline the application process for transfer students transitioning from L&C's Associate Degree Nursing program into Webster's Bachelor of Science degree program.
An agreement with St. Louis Community College that makes it possible for students to be jointly admitted to STLCC and Webster University and provide nursing students the opportunity to seamlessly complete a Bachelor of Science in Nursing at Webster University
A recent National Science Foundation grant for $647,669 over five years to help recruit and retain community college students who transfer to Webster to complete degrees in the biological sciences. The money will be used to create scholarships, academic assistance programs for struggling students and career counseling for students who are about to graduate
A Phi Theta Kappa Distinguished Achievement Full-tuition scholarship is awarded each year to an incoming transfer student and Phi Theta Kappa member who shows high academic achievement and leadership experience.
A Phi Theta Kappa scholarship of $1000 is awarded to all full-time transfer students to Webster with proof of PTK membership
Numerous orientation events for transfer students to help with the transition.
For more information about the honor roll, or to see a complete list of all institutions named, visit
https://www.ptk.org/Scholarships/TransferHonorRoll.aspx.
To learn more about Webster University's Transfer Students Program, visit http://www.webster.edu/admissions/undergraduate/transfer.html.