11th Annual Undergraduate Philosophy Conference, March 31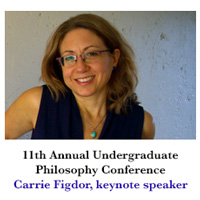 Webster University's 11th Annual Undergraduate Philosophy Conference is this Friday, March 31, from 8 a.m. - 5 p.m. in Sunnen Lounge.
The keynote speaker will be University of Iowa's Carrie Figdor speaking on "Philosophy and Gender: Beyond the Socratic Stereotype."
In this talk, Figdor will explore how the gendered tradition of philosophy harms those who do not fit the Socratic stereotype, why philosophy has lagged behind many sciences and humanities disciplines in bringing in women and minorities into the field, and what is being done to change these traditional norms.
The annual conference is organized by the Webster student Philosophy Club, with support from the Webster University Philosophy Department, the College of Arts & Sciences, the Office of the Provost, and the Faculty Speakers Committee.

Schedule of Events

In addition to the mid-day keynote, there will be six student presentations.
9:30 - 9:45 a.m.: Welcomes
9:45 - 10:15 a.m.: Buddha and Psychology: Jeremiah Wallace
10:15 - 10:45 a.m.: Determining Subjectivity's Role in Understanding Consciousness: Zara Callahan
10:45 - 11 a.m.: Break
11 - 11:30 a.m.: A Vindication of Economic, Social, and Cultural Rights: Hafsa Mansoor
11:30 - noon: Lunch
Noon - 1:30 p.m.: Keynote Speaker Carrie Figdor
1:30 - 1:45 p.m.: Break
1:45 - 2:15 p.m.: Poetry and Authenticity: Margaret McCarthy
2:15 - 2:45 p.m.: Understanding Art's Emotion: Joseph Green
2:45 - 3 p.m.: Break
3 - 3:30 p.m.: The Use of the Erotic in Expressing Philosophy: Harmony Miller
The event is free and open to the public and a light lunch will be provided.
Additional information is available at the conference website.
Learn more about Philosophy at Webster here.