Photojournalism Student Documents Quarantine Life in Vietnam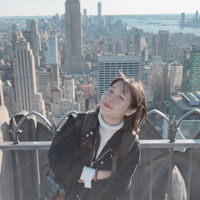 Last week, the Webster World Report podcast shared the story of Phuong Bui, an undergraduate photojournalism student in the School of Communications in Webster Groves who had endured 23 days of quarantine, when she returned to her home country of Vietnam, due to the coronavirus pandemic. This was a government imposed quarantine that began immediately after she stepped off a plane to Ho Chi Minh City, the last plane allowed into that city's airport before the Vietnamese government closed the country to incoming flights.
Phuong documented some of her time in quarantine with photos that she placed in an album online. She is also known for her work for the student media outlet The Journal.
Interview Transcript
Phuong's poignant story is something to share with our entire community, so besides the interview in the podcast, here is an edited transcript of her conversation with Rick Rockwell, the host of the Webster World Report podcast and the University's chief communications officer.
Phuong: Because I'm an international student, so I decided to go back to Vietnam for my safety in the pandemic after our campus had to be closed. So, I was checked very carefully by doctors at the airport for the quarantine place. Four or three people would stay in one room and we were provided everything like free food, much personal stuff and coronavirus testing for 14 days in the quarantine. And however, I had to stay 23 days in the quarantine because there was a coronavirus testing positive case from a young student having the same flight and same building with me in the quarantine. And you know in the quarantine we were checked by temperature two times per day. I had free coronavirus testing for 21 days and we were not allowed to get out of the building for jogging or even for exercise because of our safety, but and you know students try to play badminton, football in the entry room so we have like so great and memorable memories during the quarantine.
I met doctors. I have a talk to the doctors and I met some friends who were in the same building with me and I did some articles overseas about doctors and overseas students. And even though there was no wi-fi, there was no TV, but don't think it's boring in the quarantine because I had lots of things to entertain during the quarantine like recording a video to talk and photography, that's my response for being in the lockdown.
Rockwell: So, no wi-fi, no internet, you were not able to have those things in the quarantine. You were not then able to take your classes? You had some catching up to do then when you came out of quarantine, yes?
Phuong: Actually, we had the wi-fi but the wi-fi is not really very good. Because lots of people maybe 7,000 people in one place so we could not connect to wi-fi at the same times, so it is very hard to take the class.
Rockwell: So, you are a photojournalism student and you decided to document what you were going through in the quarantine. Tell us about your creative process to that.
Phuong: Actually the first time I'm trying to photograph the light in the quarantine but I could not get out of the building so I try to think another project to light up the oversees student in one building so I finally have a project about a student in the quarantine and I have another one the portrait of the doctors who were trying to take care of the quarantine people
Rockwell: What did you learn during the quarantine, maybe about yourself and other people?
Phuong: Yeah, the things I can learn in the quarantine just to pray, take care of myself, because no family is there. Nobody can take care of you, so I have to take care of myself and make friends. So this thing occurs and you try to understand how hard the doctors are working to take care of the people in the quarantine.
Rockwell: Here in the United States, we have the stay at home orders, but we are still able to go out of our house and go shopping and do these things, and many people here are using the word 'quarantine' and saying we're in a quarantine. But you were in a real quarantine, 23 days, in the same building, not able to leave. That is quite an endeavor for you to do that.
Phuong: But we were provided everything, like: food, mask, gel hand sanitizer and fruit, like everything, they provided everything, so it's okay.
Rockwell: What is life like right now in Ho Chi Minh city? What do you have to do? What are the restrictions?
Phuong: Yes, we have to wear the mask when we get out of the house. The city is just removed from the lockdown two days ago. So, everything is just back to normal life. And there is no coronavirus case in ten days already.
Rockwell: Well that is very good news to hear from Vietnam. Tell us do you have any messages for your fellow students or for other folks in the Webster system?
Phuong: Yeah. Just be brave, keep in mind your health and well-being. The virus has prompted us to heighten self-awareness. I'm sure a lot of us have been practicing social distance, physical distancing and coming together on the social media for mutual morale boosting conversation and sharing. I think this is the best way to cover the pandemic.
Rockwell: And anything else you would like to tell us? What story haven't you told us today in our discussion that you think people should know?
Phuong: I think my story in the 23 days quarantine is very long. If I had time I could tell you more about that because it's like I can take the pictures while we are waiting for the couples in the quarantine. It's very interesting you know and I take the picture of the doctors in the quarantine. I take the pictures for the security in the quarantine. I take a lot the picture: it is like a story, so it's too long.
Rick: No, don't feel like it's a long story. I'm happy to listen. So, take a few minutes, tell us about the long story, please.
Phuong: I have an interesting story. Like, I take an album of photos for a couple that is preparing for their wedding. They are a couple that traveled to America for wedding photos.
But America like was locked down, so they have to back to Vietnam and they have been in the quarantine 14 days. So when I spending time waiting for the testing — a coronavirus testing —and I saw them try to take the pictures by the phone. I come to them and try to ask: 'Do they need help? I will help you take the pictures.' And finally, I take lots of pictures of them wearing the dress, the wedding dress. Like everything in the quarantine, very interesting and the doctors and the security, like support us a lot and finally I got an album of the wedding for the couple.
Rockwell: That must be so interesting to be able to share your skills with them. But not only that, what a story: the fact that they're spending their honeymoon in the quarantine.
Phuong: Honeymoon, in the quarantine, yeah! They told me that they are going to have their honeymoon in America, but finally they have their honeymoon in the quarantine. Fourteen days, honeymoon.
Rockwell: Anything else you would like to add?
Phuong: Yeah, I have. I have an experience to share about our class, you know.
Rockwell: Oh, please share.
Phuong: I just submit my work to Canvas and one of my classes starts at 3:00 p.m., it means 3 a.m. in Vietnam. So you know it's very difficult to work at 3 a.m. for class, you know.
Rockwell: So, it's a synchronous class?
Phuong: Yeah. So, my professor understands that, so I do not need to turn up for the online class. But some of my friends in the quarantine could not be with their professor so they have to stay up late from 1 a.m. to 5 a.m. for class even though the internet in the quarantine was not really good. And I think I'm really lucky to be a student in the Webster University where there are a lots of nice professors, you know.
Rockwell: Very good! Well you stay safe and healthy and we hope that if you wish to come back to St. Louis that you can and maybe we'll get to visit with you face-to-face.
Phuong: Yes! Great!