Alumna Publishes Travel Book for Paris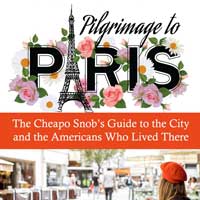 Webster University alumna Jayne R. Boisvert has published the book "Pilgrimage to Paris: The Cheapo Snob's Guide to the City and the Americans Who Lived There." It is available on Amazon and in bookstores near you.
Boisvert earned a bachelor's degree in French from Webster in 1969. She previously contributed an essay to the 2012 volume 5 of "The French Review" with an article on Parisian mystery writer Fred Vargas.
"Pilgrimage to Paris" is a n easy-to-use guide that includes travel tips, main attractions, free (and nearly free) things to do, shopping, museums, churches, cafes, and restaurants. The book also provides short biographies and addresses associated with famous Americans—writers, journalists, politicians, musicians and performers, artists and architects, and several other interesting people who don't fit neatly into typical categories—who spent time living la belle vie in the French capital.
The book was published earlier this year by "Open Books" and is available as a paperback and a Kindle-friendly e-version.
For more information about the book, visit http://www.open-bks.com/library/moderns/pilgrimage-to-paris/order.html.