Webster World Report Podcast 7: Dankert, Johnson, Wallner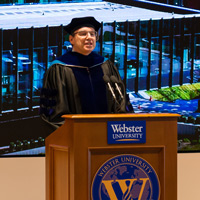 On the seventh edition of the Webster World Report, our weekly discussion to link Webster University's global operations, we hear in-depth interviews from Tashkent and St. Louis.
This program features an interview with nursing student Charlie Johnson of Webster's College of Arts & Sciences who works on the front lines in the pandemic with patients suffering from COVID-19.
The program also features interviews with Dean Anton (Tony) Wallner of the College of Arts & Sciences, and Maggie Dankert, the assistant director of Webster University Tashkent.
The news segment of the program features Nicole Miller-Struttmann, the Laurance L. Browning Endowed Professor in Biological Sciences, discussing her new bee census project called ShutterBee, and the program also features a short excerpt from the virtual Commencement speech given by Vladimir Ivkovic '99 of Harvard and Massachusetts General Hospital.