Chess Coach Susan Polgar Inducted into U.S. Chess Hall of Fame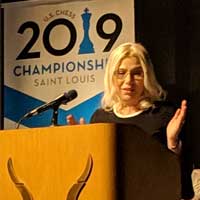 ST. LOUIS - Webster University Chess Coach Susan Polgar was inducted into the U.S. Chess Hall of Fame Monday night in front of a large crowd made up of some of the best chess players in the world and supporters of the chess community. The event was held at the St. Louis Zoo.
During the ceremony, Polgar told the crowd about her struggle to break the "glass barrier" in the chess world that denied women the right to be grandmasters or to compete against men. She also recounted how she was determined to be a groundbreaker in memory of her family members who lost their lives during the Holocaust.
Polgar is the youngest woman to be inducted into the U.S. Chess Hall of Fame. She was inducted along with Max Judd (1851-1906), an immigrant, St. Louis resident, and top player at the turn of the 20th century; and William Lombardy (1937-2017), an instrumental collaborator in bringing four world championship titles to the U.S.
The U.S. Chess Federation Hall of Fame Committee considers candidates for the U.S. Chess Hall of Fame and sends its nominations to the U.S. Chess Trust each year. The trustees of the U.S. Chess Trust vote on who should be inducted. Inductions are performed by either the Chairman of the U.S. Chess Trust or the Chairman of the Hall of Fame Committee.
During the ceremony, the World Chess Federation (Fédération Internationale des Échecs or FIDE) inducted three new members to the World Chess Hall of Fame: Akiba (or Akiva) Rubinstein (1882-1961), considered one of the strongest players never to become world champion; Mark Taimanov (1926-2016), ranked among the top 20 players in the world for over a quarter of a century; and Xie Jun (1970- ), trailblazer and national hero in China, and the first player from Asia to become women's world chess champion. It was noted several times during the ceremony that the only woman who beat Xie Jun during a championship game was Polgar.
For more information about Polgar's induction ceremony, read Webster's press release about the event, read the St. Louis Public Radio story about the event, and visit the World Chess Hall of Fame page about those inducted.