Post-COVID Economic Scenarios: The Road to Recovery for International Financial Institutions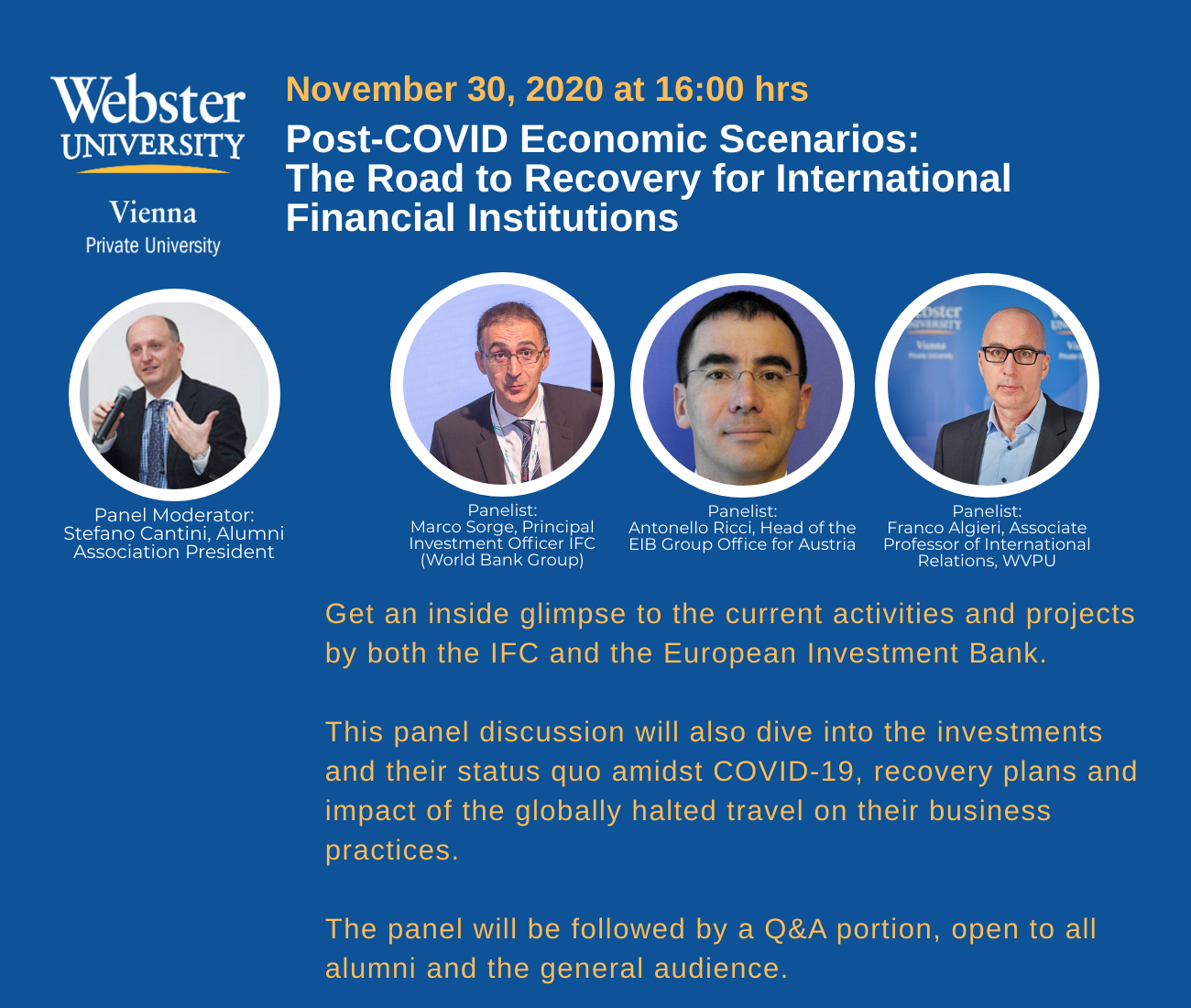 To register for the event, please fill out the form here.
About the panelists
Marco Sorge heads the IFC municipal infrastructure team in Europe, the Middle East, and North Africa. His team helps leading cities in the region to develop and finance urban transport, water, and other urban infrastructure investments with no need for sovereign guarantees.
Marco's team is responsible for the selection of eligible investments, structuring, and execution. In Turkey, Marco and the team have lent over EUR300 million for urban transport and water projects in three cities. Recently, the team has moved to Vienna and diversified its focus of operations across Ukraine, Morocco, and the Balkans. Marco is a financial economist by background and holds a Ph.D. in economics from Stanford University.
Antonello Ricci has been in banking for over 25 years, operating in project and corporate finance, private equity, and risk assessment, in Europe (Germany, Ireland, Italy, United Kingdom) and in emerging markets (North Africa and the Middle East). With the European Investment Bank (EIB) for 19 years, Antonello is since 2018 the Head of the EIB Group Office for Austria, based in Vienna.
Previously he was Head of Division in charge of infrastructure financing in Italy & Malta (EIB Rome) and lending policies in Europe (EIB headquarter in Luxembourg). Qualified as chartered accountant and auditor (Italy), Antonello holds an MSc in Finance from London Business School (UK).
Franco Algieri has been an Associate Professor of International Relations at Webster Vienna Private University since August 2013. From April 2008 to July 2013 he was Director of Research at the Austrian Institute for European and Security Policy (AIES). Prior to that he worked as a Research Fellow at the Institute for European Politics in Bonn (1991-1994) and at the Research Group on European Affairs, Johannes-Gutenberg University Mainz (1994-1995), and later as a Senior Research Fellow at the Center for Applied Policy Research (C.A.P), Ludwig-Maximilians University Munich (1995-2008).
He was lecturing Political Science at the Institut für Politikwissenschaft, Eberhard-Karls University Tübingen and at the Geschwister-Scholl-Institut, Ludwig-Maximilians University Munich. In 2000, he was appointed Guest Professor at the School of International Studies and Senior Fellow at the Centre for European Studies, both at the Renmin University of China, Beijing. Franco Algieri studied Political Science and Sinology in Freiburg, Tübingen and Taipei, and European Studies in Bruges. He received his doctorate and M.A. both from the Eberhard-Karls-University Tübingen, and a Diploma of Advanced European Studies from the College of Europe, Bruges. His research focus covers European and Asian security issues, the European integration process, and EU-Asia relations (with special emphasis on EU-China relations). He has published widely on these topics.
About the moderator
Stefano Cantini, President of the Vienna Chapter of the Webster University Alumni Association, is the Managing Director of Karba Pack Ges.m.b.H., a specialist for flexible packaging for the food industry. He further consults for Japanese trading companies in the automotive sector and has been an officer of the Vienna Chamber of Commerce for the Industrial Sector for the past 14 years.
Stefano holds a Master of Arts degree in International Business and International Relations from Webster University in Vienna as well as a Ph.D. in Economics from Mendel University in Brno.