Message from the President to the Webster University Community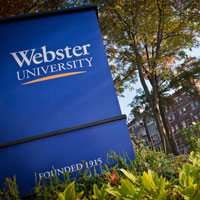 To the Webster University community:
I am writing today as our community begins the fall semester but also after a weekend when one of our residential students on the Webster Groves campus was identified as having COVID-19. This student is now self-isolating off campus. It is inevitable that positive occurrences of COVID-19 will occur on campus during a pandemic.
When this case was identified, we immediately engaged our contact tracing and cleaning protocols and have necessarily quarantined some students and staff. All of these individuals are isolated now away from others in our community.
To protect individual privacy rights, I do not anticipate sending out a community-wide message from the president's office every time that a positive case occurs on the Webster Groves campus or elsewhere in the Webster University network. However, because this is the first case to be identified as we begin the new semester, I believe it is important to inform you and reiterate the protocols we have in place to handle these occurrences. Our regular alerts system will continue to notify the community if other cases arise on our campuses.
We will continue with our online updates containing the latest information about COVID-19 related policies and issues on campus. These web resource pages include a link to where you can submit any questions or concerns.
Following the health and safety protocols that we have put in place is a shared responsibility. As we begin the new semester, please ensure that you observe social distancing and wear a mask at all times outdoors and indoors (excluding your own office or cubicle).
We will continue to work closely with the Missouri Department of Public Health and the St. Louis Health Department to monitor the spread of the virus beyond our campus and take all necessary mitigation steps.
I thank you in advance for your understanding and cooperation as we follow these procedures, for the good of our community.
President Julian Z. Schuster
Webster University