Message from the President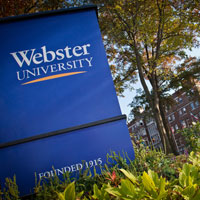 The following message was sent to Webster University students, faculty and staff on the morning of March 16:
To all students, faculty and staff,
I am writing with an important update regarding COVID-19.
A member of our community who participated in a recent Conservatory trip to New York felt ill upon returning to St. Louis. Despite the fact that this individual did not have many of the main symptoms associated with COVID-19, upon consulting with a physician our colleague then visited an Urgent Care facility and was tested t for COVID-19 out of a sense of precaution. The University is awaiting those results and this individual is now in a self-quarantine in their off-campus residence.
When we learn of the results, we will let the community know. I commend the employee for following our recently-issued social distancing policies that were put in place by Webster's COVID-19 Task Force, including immediately contacting medical professionals and with Webster University officials. All members of the trip have been informed and have been asked to self-quarantine as a precaution until the test results are returned.
I would like to stress that we have no confirmed cases of COVID-19 anywhere in the global Webster University system.
As always, the safety and wellness of all members of our community is our highest priority. We will keep you informed throughout the upcoming week with any additional news. Please continue to reference webster.edu/covid19 for the latest updates.
I understand that this is a stressful time for our community. I appreciate how our community has responded with calm and resilience in these challenging times.
Julian Z. Schuster
President