Message from the President on Coronavirus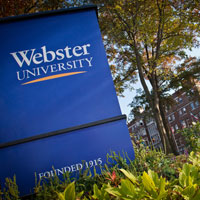 The following message was distributed to students, faculty and staff in the Webster University community.
To the Webster Community:
As you are all aware, there is growing news coverage about the coronavirus outbreak in China. I write to let you know that we are closely monitoring the situation and following our established protocols for communication and decision-making across our global network.
Study abroad and faculty mobility programs to China: At this time, we do not have study abroad students or faculty on mobility programs in China. Programs scheduled to take place in future terms are under review, following our protocols that go into effect when the U.S. State Department and the Centers for Disease Control and Prevention (CDC) issue guidance. Students studying abroad at Webster campuses or partner institutions in impacted countries also receive communication, advice, and a reminder of important contact information.
Webster programs in China: Universities in China are delaying the start of their spring terms at the direction of the government. Webster's MBA program in China, offered at two partner universities in China and serving residents of China, will accordingly have a delayed start. We are in continuous contact with our staff in China, keeping abreast of updates as they are available.
Webster worldwide: This situation reminds us that Webster University is truly a global institution. With campuses and programs in multiple countries, exchanges and partners in many more, and a very globally mobile student body, faculty, and staff, communication and connection are key. Multiple teams are in place to ensure that all of our campuses, students and employees have appropriate information and outreach – information that will be updated as details become available and decisions are made.
The CDC and the World Health Organization (WHO) have stated that the risk of being infected by the coronavirus, a respiratory virus, outside of China is low. However, this is a good time to remind all members of the Webster community, regardless of location, to take precautions to prevent the spread of respiratory infections, including influenza (flu) which is now widespread in the U.S., and other infectious diseases.
Wash hands often with soap and water for at least 20 seconds. Use a sanitizer that is at least 60 percent alcohol if soap and water are not available.
Cover your mouth and nose with a tissue or your sleeve (not your hands) when coughing or sneezing.
Avoid sharing personal items such as water bottles.
Use alcohol-based wipes to clean your workstation or other areas that you frequently touch.
If you feel ill, stay home and rest. Visit a doctor immediately if symptoms worsen.
Ask your doctor about getting a flu shot.
For more information, see this notice from Student Health Services.
As we continue to monitor the situation across our many locations, we will provide updates and information as necessary.
Sincerely,
Julian Z. Schuster
President
Webster University