Message from the President on Coronavirus, Travel Impact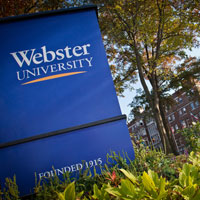 The following message was distributed to students, faculty and staff in the Webster University global community.
To the Webster Community:
On January 31, we shared a communication regarding the coronavirus outbreak, including information about its impact on our China operations, our global mobility programs for students and faculty, and our international campus operations. As you are no doubt aware, in the few weeks since that message, there have been many developments in a growing number of countries, including the U.S. Today, I write to inform you of Webster University's decision regarding Webster-sponsored travel to two locations and to provide information on how we will continue to monitor and provide communication and information on the rapidly developing situation.

Travel to China and South Korea: Following Webster University travel policy protocol, which aligns with the U.S. Department of State and the U.S. Centers for Disease Control and Prevention (CDC) travel advisories, Webster-sponsored travel to China and/or to South Korea shall be canceled through the end of the Spring semester/Spring 2 term. Our most recent information is that China is at a Travel Advisory Level 4 - Do Not Travel from the U.S. Department of State (the highest level) and a Warning Level 3 - Avoid All Nonessential Travel from the CDC (its highest level). Our most recent information on South Korea is that the CDC has issued a Warning Level 3 - Avoid Nonessential Travel (the highest level) and the U.S. Department of State Travel Advisory is a Level 2 - Exercise Increased Caution. We continue to monitor the situation, and additional decisions regarding travel during the Summer term may be forthcoming.
Monitoring Information and Communication for our International Operations: We reiterate what was stated in the message of January 31, which is that this is a developing and changing situation. As a global institution, we have policies and protocols in place for monitoring developments, making decisions as needed, and communicating to impacted constituents and to our community. Because of the rapidly changing environment, we will not send a message to the entire community with each development. However, please be aware that we have centralized all of our information and communications related to our international programs and partnerships in the Division of Global Education (DGE) in the Office of Academic Affairs. The DGE is doing the following:
Monitoring U.S. Department of State and U.S. Centers for Disease Control and Prevention travel advisories
Monitoring communications from national and international associations as well as other universities and our WINS partners
Communicating with our international campuses, collecting country-specific requirements and guidance, developing common and consistent messages for students and others, and tracking those communications
Communicating with our international partners, collecting their country-specific requirements and guidance, and ensuring we are aware of their messaging to visiting students and faculty
Communicating with faculty who are scheduled to teach on faculty mobility or lead faculty-led study abroad programs
Communicating with our international insurance carriers
The DGE will be in communication with specific people and groups as needed to provide guidance and information and to relay decisions as they are made. Hannah Verity, Director of Global Program Development, is serving as point-person for questions. She can be reached at hannahverity72@webster.edu or at 314-246-7627.
Finally, as you may know, the CDC issued a statement that we should prepare for the spread of the coronavirus in the U.S. With regard to our U.S. operations, we are fortunate to have opportunities to utilize our online and WebNet+ capabilities more fully should that be necessary. More information on U.S. contingency planning will be shared as appropriate.
In closing, I thank all of our administrators, staff and faculty who are working to ensure that our students have communication, information, reassurance, and options as things unfold. I think I speak for everyone in hoping for the end to this situation.
Sincerely,
Julian Z. Schuster
President
Webster University