Message from President Julian Z. Schuster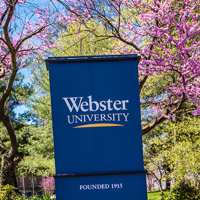 The following message from Webster University President Julian Z. Schuster was distributed on Friday, Sept. 4.
To the Webster University Community,
We have made it through the first two weeks of school under challenging circumstances, and I want to thank everyone for doing their part by wearing masks, social distancing and following our COVID-19 protocols. The community's collaborative approach has made the start of the school year a successful one.
As those in the U.S. head off into the three-day Labor Day weekend this week or our colleagues in other countries celebrate other holidays in the coming weeks such as the Mid-Autumn Festival in China or Saint Rupert's Day in Austria, I caution everyone to not let their guard down. Continue to wear masks, wash your hands and socially distance. Health officials have pointed out that when people in the U.S. relaxed their guard during the Memorial Day Weekend in May and again during the Fourth of July holiday, infection rates spiked across the country. I want to make sure that you return healthy, prepared to continue with the Fall semester.
This does not mean that you must stay isolated in your home. Parks, museums, many businesses and restaurants are showing that it's possible to enjoy your time off, but in a safe and considerate manner that encourages social distancing, the wearing of masks and other precautions.
So, I wish everyone a happy holiday weekend. Please stay safe.
Julian Z. Schuster
President