#WeAreAllWebster: On inclusion, respect and welcoming all students at Webster
As students return to campus in the wake of newsmaking incidents of violence, hatred and intolerance around the world, Webster University President Elizabeth J. Stroble and Provost, Senior Vice President and Chief Operating Officer Julian Z. Schuster share a message about embracing our differences, rejecting hatred and exclusion, and nurturing a welcoming campus community.
Watch their message below:
A transcript of their message follows below: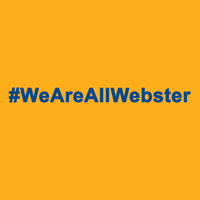 Last weekend, the nation saw frightening events communicating hate and intolerance in Charlottesville, Virginia. To see people openly carry Nazi symbols and Ku Klux Klan labels was repulsive and scary.
In these times of uncertainty and anxiety, we are seeing an increase in hateful words and actions that disrespect others, belittle their identity, or attempt to shut down discussion by denigrating them.
As a University community, we must work together to stop the spread of such hateful and divisive rhetoric and actions. We must embrace all human differences while building on our shared humanity, and eliminate discrimination and exclusion. We also must provide all students, faculty and staff the opportunity to participate, regardless of differences. Remaining silent in the face of bigotry is not an option. We must be clear: behavior and symbolism intended to incite or harm will never be welcomed at Webster University.
We know the values of inclusion and the free exchange of ideas must not be in conflict. They should reinforce each other and help us all better understand ourselves and our own humanity. These values are an essential part of why people come to Webster. Maintaining them requires intentional work. It requires us to respect others and to hear those with different experiences than our own. Most importantly, it requires the engagement of the entire community.
We were heartened that, following a Town Hall Forum in January 2017, a group of Webster students and staff worked together to develop a campaign to promote diversity, inclusion, and respect on campus. One element of the campaign is an inclusion pledge that will be made available to students and all of us in a variety of ways this fall.
Of course, the pledge is voluntary. But the process of creating it was inclusive, incorporating the views of many students and staff, with input from our Associate Vice President for Diversity and Inclusion and endorsement by the Student Government Association. In short, it reflects the values of our entire community.
In the coming months, we will engage in more critical conversations about diversity and inclusion, about creating inclusive avenues to exchange ideas and learn from our differences.
We welcome you to Webster and want you to feel at home here.
And we encourage you to engage in a community that rejects hate and values each other.