Message from the President and Provost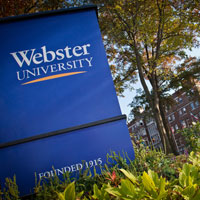 This past weekend, the St. Louis region was largely consumed by reactions to a judge's verdict in the trial of Jason Stockley, after the fatal shooting of Anthony Lamar Smith in 2011. As was anticipated for weeks, reactions included a series of mass protests.

This situation affects people across this community, whether they are among those protesting around St. Louis, or policing the demonstrations as part of their vocation, or now pondering how to feel, think, and act in these moments.

We were reminded this weekend that those who passed through Webster decades before have lived this experience too. The Stockley verdict was announced just before the beginning of our annual homecoming weekend. Members of our Class of 1967 came to campus to reflect on the 50 years since they graduated. They lived through tumultuous times. The events of their era as college students included assassinations, the struggle for civil rights, and a divisive war. They learned to cope and live a life in times of turmoil. They told us they see that challenge facing our current students and share their heartache.

Many in our region are distraught, although not surprised, by the verdict. On the face of it, it is hard to understand and reconcile ourselves to the outcome. For many, the case represents the continuation of a pattern. However, as any one of us evaluates the evidence — and legal experts can tell us much about how this long-running case reached a conclusion — larger underlying issues remain. As St. Louis Police Chief Lawrence O'Toole cautioned even before the verdict was issued, those who are comfortably unaffected by it — and appear to be inconvenienced by protests — should all the more "be aware of the larger issues the protestors are trying to call attention to. These issues have to be addressed."

As the members of the Class of 1967 told us this weekend, Webster helped them through the challenging times of their era. In 1967, Webster was taking important steps to be an inclusive place. These alumni, like us, can only express disappointment and distress that the events of today show that society has not made the progress that many expected when they graduated 50 years ago. They recognize we have so much more to do.

As Tracy Jeffries, MA 2010 and this year's recipient of the Webster Alumni Association's Loretto Award, said in her acceptance speech Saturday night, none of us alone can make the difference needed to assure peace, justice, and equity for all of us. Only when we come together as a community will that goal be realized.

As a University, we have the obligation and the opportunity to facilitate the listening that leads to understanding and the commitment to lead and enact change. We are living through a moment that reflects society at a crossroads; we must approach this as a time of learning and reflection. How can we gain a greater understanding? How can we support each other as we travel what may well be a difficult journey?

The University's commitment continues today with critical conversations about the verdict and the issues around it. We invite those who are able to attend today's event, including facilitated small-group discussions, in the University Center from 2-4 p.m. We recognize such discussions are not the beginning nor the end of an answer to the many questions we have. They do represent a step in helping us navigate these circumstances together. The more we hear one another, the more we can help and rely on one another.

It is worth reminding ourselves that the University is a reflection of what we see in society. But Webster is the ground to stand on as we work through society's problems and offer answers and ideas. In Webster University's diverse community, we come from many different walks of life, including many who disagree on any number of aspects of this past weekend's events.

The challenge for all of us is to find the strength and resilience as a community to reach understanding with one another, and to achieve meaningful progress on the path to equity. The Class of 2017 should return for their 50th reunion in 2067, marking the contributions they made to a society the better for their leadership.
Elizabeth (Beth) J. Stroble
President
Julian Z. Schuster
Provost, Senior Vice President and Chief Operating Officer