President and Provost Message to the St. Louis community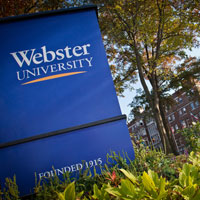 To the Webster University Community in the St. Louis Region:
As you may be aware, many individuals and companies in the St. Louis region are in a heightened state of alert in anticipation of a judge's pending decision in the trial of Jason Stockley, a police officer accused of murdering Anthony Lamar Smith in 2011.
It is a case with possible outcomes that have many on edge. While we do not know when the verdict will be announced, there have been published reports of planned protests and civil disturbance, which could affect the region in various ways.
We are monitoring the situation and are prepared to take any action that ensures the safety of our students, faculty and staff. If transportation or mobility around the region is disrupted, we will communicate any operational decisions such as postponed or rescheduled classes via social media, the website and Webster Alerts.
No matter the outcome of the case, we recognize the issues at stake impact the lives of many in our community. We ask that the members of our community consider these issues while continuing to treat each other with respect, empathy and understanding. Particularly in times of heightened tension in our society, it is essential that we live Webster's values and demonstrate the caring nature of our community. As the Inclusion Pledge developed this summer by our students expresses, "I will dedicate myself to actively listen to each person's story."
May we heed the words of that pledge. Webster University is a welcoming place that enables connections, discourse and debate in a respectful manner. Both globally and within each campus, we are a globally diverse community, with students, staff and faculty ranging widely in their citizenship, nationality, culture, personal identity, and socio-economic status. A benefit of that diversity is that we all bring different backgrounds and experiences to our daily interactions with one another. Maintaining the health of our community requires our renewed and ongoing commitment to treating one another with dignity and respect.
Thank you for continuing to make Webster University a vibrant place to support student success, to engage in learning, to embrace our roles as global citizens, and to strengthen a diverse and inclusive community.
Sincerely,
Elizabeth (Beth) J. Stroble
President
Julian Z. Schuster
Provost, Senior Vice President and Chief Operating Officer