Webster Leaders Meet Legislators in D.C.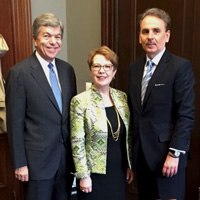 WASHINGTON, D.C. -- Webster University President Elizabeth (Beth) J. Stroble, Provost, Senior Vice President and Chief Operating Officer Julian Schuster and Carolyn Corley, associate vice president for Foundation and Government Relations, Advancement, visited with U.S. congressional representatives and embassy officials in Washington, D.C. last week.
Meetings with Reps. Ann Wagner and Lacy Clay and Sens. Claire McCaskill and Roy Blunt provided the opportunity to discuss the impact of last month's announcement about the National Geospace-Intelligence Agency's St. Louis location and recent legislation including Wagner's SAVE Act aimed at streamlining prosecution of media who abet human trafficking through advertising.
The group highlighted Webster's recent Human Trafficking panel and ongoing research on the subject of trafficking in elementary and secondary schools by Webster Applied School Psychology students.
Blunt and his military staff also heard from Sean Coleman, associate vice president for U.S. Military Campuses and Government Programs and regional director of the National Capital Region, about implementation of new Navy structures for academic advising.
A cordial meeting at the Austrian Embassy explored the possibility of a Vienna campus visit and lecture by Christian Brunmayr, Embassy Chief of Mission. Future D.C. trips will continue to explore opportunities to work with officials to benefit students and campuses throughout the Webster network.